Congrats to our 2011 Recognition Winners!
The people and organizations that allow DSC to provide such amazing services throughout the community deserve recognition too! Here are the DSC Recognition Winners:
Personal Achievement Award: Mr. Darren Wolken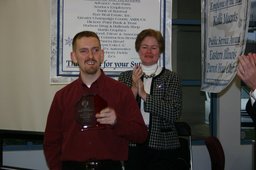 Darren has been receiving DSC services since 2007 where he has blossomed into an integral part of the DSC family. Darren always has a friendly smile and "hello" for each person he passes in the hallway and to those he offers a healthy snack from his Healthy Snack cart, a job Darren independently performs each day.
Darren is respectful of people's individuality and has a unique ability to find "common ground" with everyone he meets by paying attention and listening to what others are sharing. Darren boasts a variety of interests which includes being a member of the Prompting Theater, Happy Rockers Choir, Park Walking Crew, Tech Crew, Healthy Snack Cart Manager, CUSR Basketball, CUSR Bowling, a member of Immanuel Lutheran Church, attends Camp New Hope, attends many CUSR social/recreational activities in addition to working at McKinley #3 in many varied vocational assignments at DSC. Darren also participated in both CPR and First Aid classes offered at DSC. Additionally, he has taught several staff members about Facebook, burning CDs, creating music libraries and other "technical" challenges; he brings us to the 21st Century in a fun and interesting manner.
Employer of the Year: Kraft Foods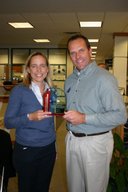 Kraft Foods and DSC have enjoyed a collaborative relationship for approximately 22 years. During this time, DSC has contracted with Kraft Foods to complete an array of jobs, which has provided real work opportunities for approximately 150 adults with developmental disabilities. These work opportunities have translated into nearly $5 million in consumer (preferred term for individuals receiving DSC services) wages and unlimited training opportunities, while fulfilling essential needs for Kraft Foods. As a result of this long-term partnership, Kraft Foods has supported DSC's mission to enhance the lives of individuals with disabilities by providing services and supports which enables them to live, work, learn and participate in their communities.
Employee of the Year: Ms.Kelli Meents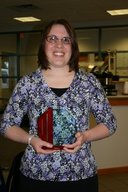 Kelli holds the position of Training Coordinator and is being recognized for her ability to effectively communicate with all staff and to coordinate projects and information when needed. She is professional and approachable making new staff at DSC feel welcomed and appreciated. She has a positive attitude and is always thinking of ways in which we can all improve services and supports to consumers and staff at DSC. She is truly an excellent first impression for all staff entering the human services field.
Public Service Award: Eastern Illinois Parrot Head Club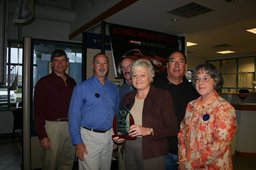 The Eastern Illinois Parrot Head Club (EIPHC) was chartered in 2003 under, The Parrot Heads in Paradise, Inc., the International Organization of Parrot Head Clubs. The purpose of the organization is to promote the international network of Parrot Head Clubs as an humanitarian group sharing information and social activities for mutual benefit.
Since that time, EIPHC has quietly gone about making a significant impact in their community and region through performing one-time and on-going community service projects which have supported over 20 local and national organizations and by holding their chartered fundraising event, C-U in the Prairibbean. This annual event includes raffles, silent and live auctions, an outdoor concert featuring The Boat Drunks and other local favorites. In the past seven years, through this event EIPHC has donated just under $200,000 back to Champaign and Illinois organizations and specifically has donated $79,485 to DSC, the C-U in the Prairibbean recipient in 2010 and 2011.
Special Recognition Award: Ms. Deborah Frank-Feinen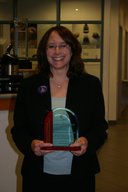 Deborah Frank-Feinen, Attorney at Law, is being honored for her extraordinary efforts in representing individuals receiving services at Developmental Services Center (DSC). She has dedicated an incredible amount of time and energy in helping individuals with a variety of legal issues and serves as an outstanding resource for DSC's Case Management and Family Support Services staff members. In addition to her comprehensive knowledge of the law pertaining to the legal rights and requisite protocols of individuals with developmental disabilities, Ms. Feinen is also keenly insightful when taking into consideration each individual's life circumstance and ability to participate in their legal proceedings.
---