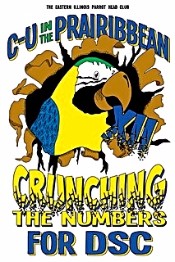 Eastern Illinois Parrot Head Club Did It Again!
DSC is so appreciative of the efforts of the Eastern Illinois Parrot Head Club (EIPHC) members who worked tirelessly to make this event spectacular!  DRUM ROLL PLEASE....A total of $53,679.03 was raised as a result of C-U in the Prairibbean XII. DSC received the check at a presentation on October 21st! Many Parrot Heads were in attendance to share the good news with DSC!  THANK YOU, EIPHC,volunteers and sponsors!! These funds will help DSC continue to offer supports and services to the nearly 1,100 individuals and families receiving our services!  SOCIAL!
Since 2010, EIPHC has raised over $325,000 for DSC!!  Amazing! 
The Eastern Illinois Parrot Head Club (EIPHC) will be hosting its 12th annual fundraising event on August 6, 2016 in Downtown Champaign! The event will showcase a local Jimmy Buffett tribute band, The Boat Drunks, along with The Tons O' Fun Band!
Thanks to a wonderful response from the community last year, EIPHC raised $52,616 for DSC, bringing the total amount raised for DSC from the last five years' events to over $275,000!!! Thank you EIPHC!!!
As always, there will be a large silent auction featuring many great items! This year's event is also featuring a $5,000 CASH raffle!
Join us for this fun and energy-filled evening and help us "Party with a Purpose"!
August 6, 2016 ~~ 5:00 p.m. to Midnight
Downtown Champaign in the parking lot at the corner of Washington and Neil