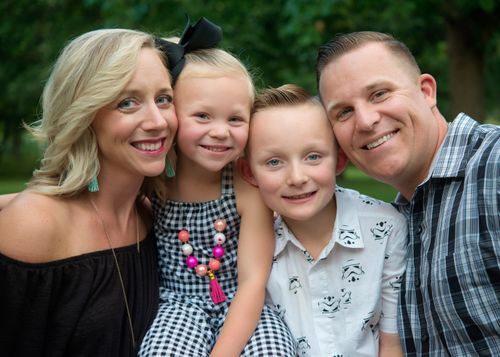 Meet the Dilley's!-This week, we're looking back on our 2018 Tree of Hope Spokesfamily-
Meet Hunter, an energetic, kind hearted, compassionate and intelligent, thriving eight-year-old boy who loves presidents, being with friends and all things Star Wars. If you spoke with Hunter today, you would probably never know he struggled to speak or even form words at one time.
Hunter's journey with DSC began right after his first birthday. As a baby, he had started to babble some and even said a few first words but just as quickly as it all started, it stopped. Those words he first mumbled were quickly forgotten. A family member had told us about Early Intervention (EI) services and we decided to look into the program to see if they could give us more information or suggestions for our toddler. We had a full evaluation where it was determined Hunter qualified for speech and language services along with some developmental therapy services.
Right away, we fell in love with our developmental therapist, Angela, who worked at DSC. She was patient, kind, and above all, had a true heart for children. She never hesitated to go into more depth and explain therapies to us, and she encouraged us to continue working with Hunter on our own time as much as we could.
A few months later, we were able to start speech therapy with Barb from DSC, and life changed for Hunter and our family. I have never met another human being so caring, genuine, selfless, and so full of knowledge. She was the perfect fit for our son and we soon began to see progress with our son's speech and language progression. The only problem was we had not found Barb soon enough!
Although we had made great progress and no longer needed developmental therapy, our son was nearing age three and would soon age out of EI's program. His only option would be to continue speech services through the public school system. Barb had begun to feel like part of our family and I could not imagine starting over again with another therapist. Hunter had really begun to make progress and was showing huge signs of improvement.
Having a child who is nonverbal and not understanding why is very scary for parents. Up to this point Hunter was a healthy three-year-old boy who, for reasons unknown, was not speaking. He was very bright; he could understand us and was using alternative communication, but still not forming many words. At this point in Hunter's journey, DSC arranged for us to see a pediatric specialist in town. We even took our therapist to this doctor appointment, so that we may have an extra set of ears. It was here where our son was diagnosed with childhood verbal apraxia.            
Verbal apraxia is a speech sound disorder that affects the brain pathways involved in planning the sequence of movements that produce speech. There is no easy fix or cure for verbal apraxia. Thankfully, in Hunters case, with a lot of hard work and intense speech therapy, he had overcome it.
Although Hunter aged out of EI's program and we continued services at the school, we never really stopped seeing Barb. Barb had become more to us than just our therapist - she was our friend and another advocate for Hunter. She truly cared about how he was doing and wanted to continue to watch him grow and succeed in life. She allowed us to stay in contact with her to ask more questions, brainstorm, and bounce ideas or new therapy techniques off her. She has met us for lunch dates, coffee dates, and even doggie dates! She has answered every email, text message, and phone call we have ever sent - even five years after our services have ended.
One of the most admirable qualities of the DSC therapists we worked with was their heart. They treated Hunter and our family like real people who they genuinely cared for. Hunter was never just another kid on a caseload. They actually took the time to get to know the real Hunter. Many times our session with Barb would run over because she was still answering our questions, or had found some new information she thought would be helpful for us. Although DSC was only providing services for Hunter, they were really providing so much more support and guidance for our whole family. DSC and their caring staff have changed the life of our son and our family. I cannot imagine where Hunter or our family would be without the help we received from them.  
Today you can usually find Hunter with his head buried in a book about former presidents or challenging someone to a lightsaber battle. Speech and language services have really paid off as he has even attempted to learn and speak "wookiee," just like Chewbacca, one of his favorite Star Wars characters.
DSC offers services for children with disabilities and delays. Before we had Hunter, we did not understand the scope of services this important community resource offered for so many families! We feel so fortunate to have found DSC and want everyone to know what a treasured resource they are for the community we all call home.