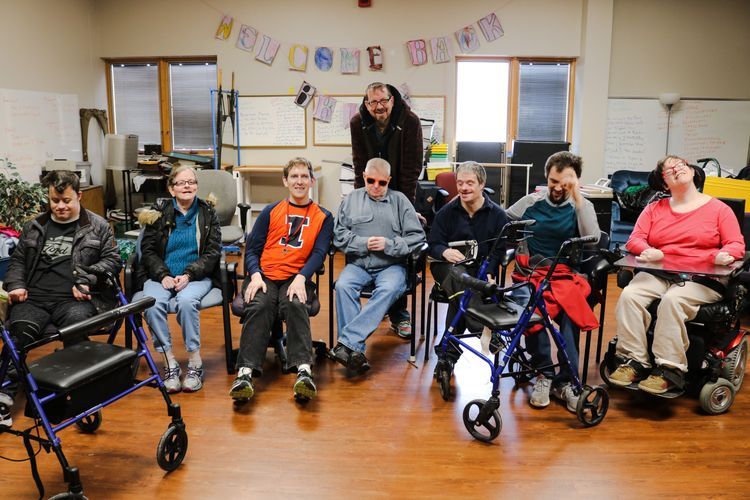 We recently had the opportunity to visit with the Prompting Theater, a DSC Program, comprised of a group of local actors. The program is led by Brian Hagy, a DSP-Direct Support Professional employed by DSC, with strong ties the film and theater community. Other members of the group include Ray Pinnell, Richard Hicks, Marsha Miller, Todd Joyce and Amy Kelly. The group works on a variety of film and theater related projects throughout the year. In addition to the group projects, many actors are also involved in a professional manner with other community and independent films (outside of DSC).
One of the films the group creates together is for the Easterseals Disability Film Challenge, which is hosted each year by Easter Seals. To enter, the group must come up with a film within in a designated time window and they compete on a national level with other creators in cities such as Los Angeles. In the past, it has been a little difficult having to work within specific location guidelines. Finding an accessible location for everyone in the group to get to within a short time frame is not always easy.
This year, the guidelines have been expanded to be more accessible for everyone. He hopes this will help their group be more competitive with the resources they have. "This is educational for everyone because it's important to understand that people with disabilities encounter these obstacles every day. Their wheelchairs may not be able to access every location at a restaurant, or somewhere they'd like to visit."
They are also given a theme for the challenge and then the group brainstorms about what they want to do for the film. "Members are very creative, so we've come up with some wacky ideas at times, but one thing we've learned is that film is very different from theater. The group used to do more theater, but as we've grown in film production, we've found it to be more accessible to everyone."
Darren Wolken, who has been involved with a number of film projects, including the award-winning film "Crop Dust," has learned editing, sound and lighting from his involvement with the group. DSC has a large screen and software on-site to allow the group to be able to work on their projects. Darren is also in process of working on a film with the Champaign Park District.
Group member, Amy Kelly said her favorite project, thus far has been Petrushka, a film about a Russian puppeteer. Her fellow group members were quick to agree with her on their mutual fondness for the film. The film has not been released to the public yet. It's a longer project compared to other films that the group has worked on. It's about an hour and forty-five minutes and includes a lot of special effects. Those special effects require the assistance of a graphic designer and though the group has had some volunteers, they can still use additional help from a graphic designer.
Going back a few years, the group created a short film about C-U Oktoberfest, one of DSC's fundraisers, called "A Quest for Legendary Treasure." It was initially going to be a couple of minutes, but as the treasure hunt for German chocolate cake and other items pertaining to German culture began and area businesses got involved, the group's excitement grew and it became a longer film. We'll pull this out of the archives this week and feature on our C-U Oktoberfest page.
You can also be on the lookout for a music video that the group has participated in with Parkland Pops. The video is set to release sometime in May and will highlight some of the history of people with disabilities.
Plus, they are currently working on a new short film. The filming has completed, and the troupe is now learning how to edit a film (having recently installed editing software on the computer they have in the theater). The computer is slow, making editing difficult to do, however, for a first time learning experience, the troupe is excited to be adding to their skills with filmmaking.  This film will release by early March, if not before.