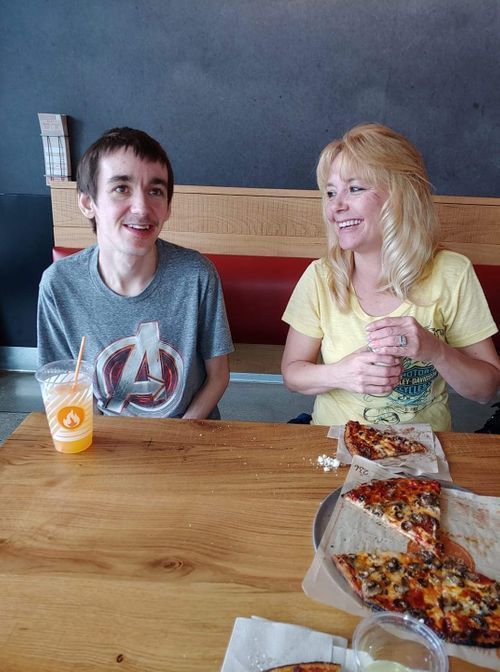 Throughout the month of May, we are honoring DSC Moms!!! All of you do so much each and every day, and we want to take this opportunity to share some of the inspirational moments and the challenges that you have faced. Happy Mother's Day! We celebrate you!
Angel Bebout is the mother of Austin and his younger sister, Colleen. When Austin was around three years old his pediatrician referred their family to DSC's Early Intervention (EI) program. EI provides free assessment and developmental screenings for children to help identify the existence of a delay or disability. Austin was diagnosed with autism and an individualized plan for support was established.
The family moved to Colorado when Austin entered kindergarten. They lived there for twelve years. "One of my favorite memories of Austin growing up was when he was about nine years old, and he learned to repeat his vocabulary words. We had tried every concept out there. It was a big accomplishment. He was also very aware of his little sister from a young age. He would always walk around her, and was careful not to bump into her, or step on her," said Angel.
The family later returned to Illinois, reconnected with DSC and began receiving Respite services. "Having Respite available to our family was huge. Most days, I usually cared for Austin during the daytime hours, and then my husband took care of him at night. Respite would provide a few hours for us to have a date night, or allow us time to go to the grocery store and run errands. I don't know how we would've been able to do those things otherwise." In fact, Austin's younger sister's life was impacted by seeing how Respite helped her family. She later went to school to receive her CNA (Certified Nursing Assistant), so she could become be a Respite Care Provider.
DSC Case Managers and other staff helped Austin transition from high school. He currently participates in Community Day Services (CDS) programming at DSC. "Austin is now able to walk with someone without running off, like he used to do when he was younger. He can hang out in a group and doesn't need to hold on to someone for support."
Angel said that when she thought back on the advice she's received over the years, the best tip she can pass along, is to always ask questions. "I remember one of Austin's Case Managers telling me that it's always okay to ask questions. If they don't have the answers, they will find someone who does. They seem to have so many resources to find what we need. These are not questions you're going to find the answers to on Google."
Austin recently celebrated his 29th birthday. He lives in Fisher with his family, where he has a finished basement to hangout and calls his own. He enjoys being outside, and especially likes playing ball.
Thank you, Angel for sharing your story, and for all you do as a Mom! Happy Mother's Day!