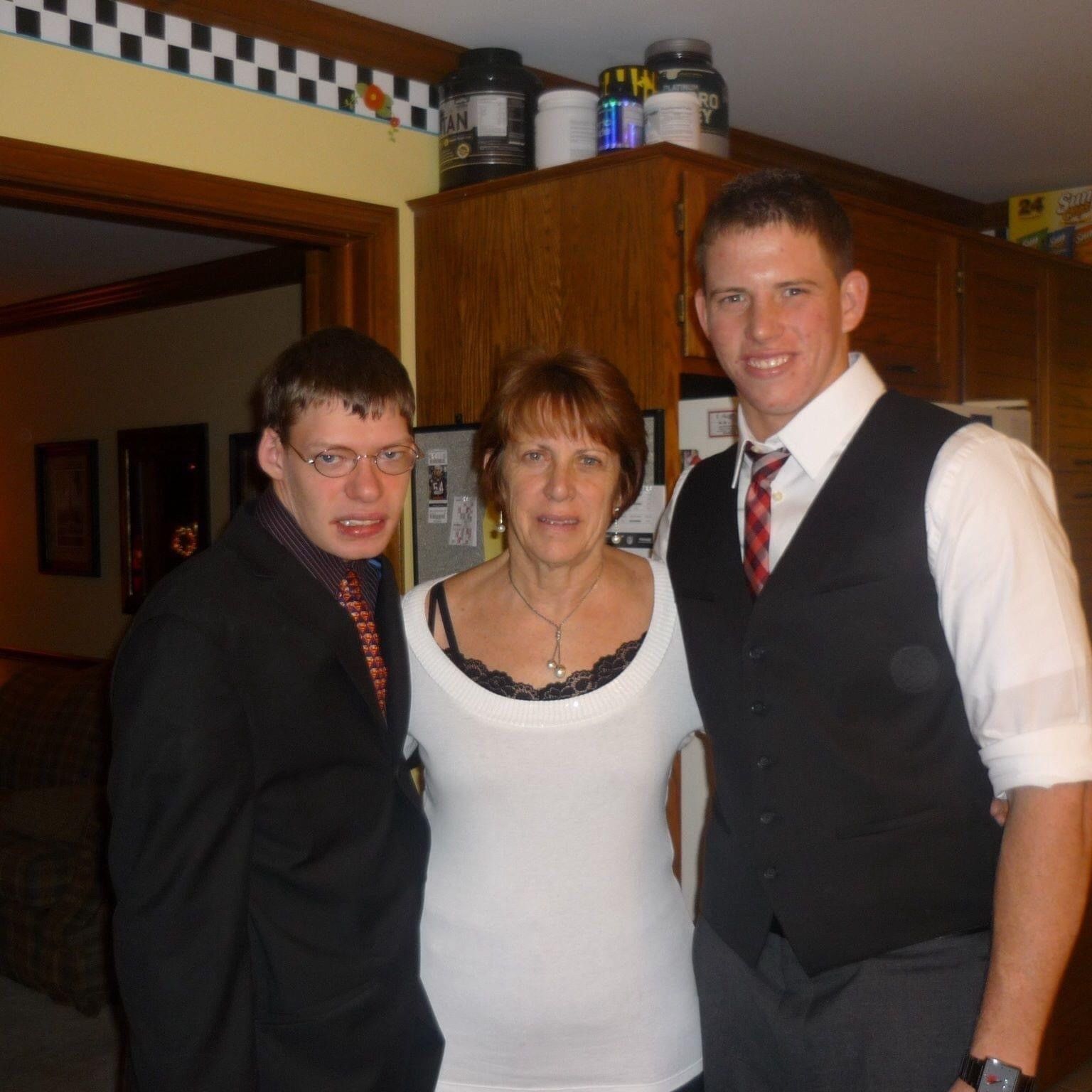 Meet Me on Monday- May 9, 2022
Meet Gail!
Throughout May, we are honoring our DSC moms and mother figures! All of you mean so much, and we want to take this opportunity to share some of the inspirational moments and the challenges you have faced. Happy Mother's Day! We celebrate you!
Gail Loughlin is the aunt of Decker Garrett, who receives services from DSC. According to Decker, she has been like a mom to him since his mother, Gail's sister, Kay passed away. Decker, who is thirty, lost his mother when he was just four years old.
Gail and Kim (Decker's other aunt, his mom's twin sister) knew without any doubt, that their sister Kay, would want them to step in and offer to help take care of their nephew. Gail began traveling from her home in Lockport, Illinois to Champaign often. She would meet with Decker's teachers, and she especially remembers a local teacher Nick Henderson, who was helpful to their family at the time. "Nick was the first person who suggested the idea to me of a Group Home. In 2009, an opening became available at CTF (Charleston Transitional Facility) and Decker moved into one of their homes in Champaign. CTF was great for us at the time. We were also on the waiting list at DSC. Around 2012, an opening became available at Foothill, and Decker and I took a tour. He loved it, and I loved it, so he made the move, and that was the beginning of our journey with DSC."
Decker became involved with DSC's Employment Services program and began working with a job coach. Since that time, he received a job and has been with the company for over eight years. His first manager recognized his friendly personality and moved him into a new role, where he had the opportunity to interact with more people. He now has a new manager and is a supervisor where he has oversight of other employees.
"DSC has been phenomenal to work with over the years. The staff is so hands-on. I cannot say enough about their employees, Mike Beth, who is Decker's job coach has been with him almost this entire time, and Annette Becherer, who has been at DSC leading Employment Services all of these years. We are so grateful."
 "I feel very blessed that Decker's Dad has allowed me, and my sister to be involved in Decker's life. I have so many wonderful memories and feel very fortunate. We feel both broken, and blessed by our circumstances. We suffered a loss, and yet through an unfortunate event, we've gained so much by having Decker a bigger part of our lives."
When Gail and Decker get together for fun, they enjoy playing pool, chess, watching movies, bowling, and going to dinner. Gail also has two children and six grandchildren.
Thank you, Gail, for sharing your story and all you do as a mom! Happy Mother's Day!
To read more Meet Me on Monday stories visit: https://bit.ly/1RUdyrs