Mailing Services Center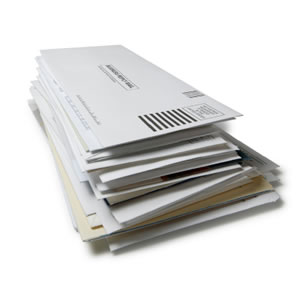 DSC provides a full service mailroom to assist you in your direct marketing needs. With an ink jet addressing machine that is rated at over 15,000 pieces per hour, we can get your high volume mail pieces out with full bar coding to keep costs low. Additionally, our tabbing equipment and inserting machine will ensure your return envelopes and invoices will always reach your customer. If your piece is a unique size or thickness, or if you have special circumstances which makes your mailing piece unable to run on automated equipment, we have the personnel ready to handle your job by hand with pressure sensitive labels, tabs and sorting.
DSC Mailing provides the following services:
Ink Jet Addressing
Tabbing 1,2 or 3 (depending on piece)
Automated or Hand-Folding
Bursting
Machine or Hand-Insertion
Bar Coding
Indicia Labeling
Post Office Delivery
Collating
Mailing Lists
Let DSC help you and be among these companies we currently serve:
Illinois Department of Natural Resources
Illinois Department of Revenue-Tobacco and Alcohol
University of Illinois
Champaign County Treasurer's Office
Urbana-Champaign Sanitary District
Martin Graphics
Direct Impressions
For more information on our Mail Services Center or for a free quote, please contact Brad Parks, Director of Business Operations at (217) 356-9176 or bparks@dsc-illinois.org.