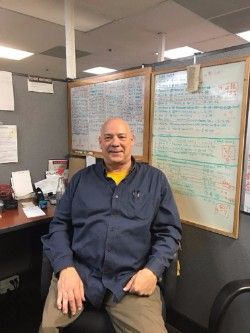 Dick Montgomery has been employed at DSC for over 15 years!  He has assisted many people who choose DSC services to find employment and, quite simply, everyone that meets Dick thinks he is just a great guy!  After sitting down and talking about his career, Dick has made it clear that DSC has provided him a great experience that has added to his life purpose.
Dick is an Employment Specialist. In his role, he helps to match employment opportunities to the needs and interests of those he is serving.  He loves watching the evolution of a person and their family when he or she gets that first job and starts making that personal connection.  This connection comes in part from a lot of hard work on Dick's part.  When Dick starts working with someone, he spends about a week learning about why the person needs to have a job or income.  It could be either for self- esteem, values, confidence, etc. or to help family.  Once he has this conversation, Dick gets to work talking to different employers on what their needs are for an employee and tries to identify which candidate(s) is best.  This process takes a while because it involves many meetings to make sure that both the employer and employee are comfortable and can work together.
After this relationship establishment, ideally, an employer would offer a job to the person and that is when Dick steps in to help even more. He trains the newly hired person on the job to give them the best level of support needed to start this new position. Additionally, it helps Dick get to know the individual on an even more personal level, which shows Dick the best way to continue support so the person will be successful after training.
Dick's process is lengthy, but rewarding. This reward and success is what Dick uses as his motivator to continue to get job offers for DSC participants. His success is measured by watching the excitement as the person advances in their life. Getting to watch the success with them and see their fulfillment is the feeling that makes him love what him does.
Dick has been part of the DSC family for many years and annually matches employment for 8 to 17 people…simply outstanding! DSC appreciates Dick and his commitment to providing quality services! Dick shares that he, "appreciates his time here [at DSC] even more and wants to thank DSC for the chance to get back into direct service."