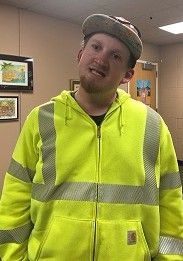 Meet Alex!
This month for National Developmental Disabilities Awareness Month we are spreading awareness by participating in the #SeeMeforMe campaign. People all over the United States are promoting awareness and acceptance.
The campaign is divided into four parts that will be highlighted throughout the month of March. The topic for this week is community living and Alex is the perfect fit! Alex moved into his own apartment at C-U Independence last September and is enjoying a new sense of freedom. He likes that he can do whatever he wants to do, when he wants to do it, and exactly how he wants to do it. In Alex's spare time he watches television and talks with his neighbors who also live in his apartment complex. 
Alex works on the University of Illinois campus where he recycles three days a week. He has had this job for three years. Alex admits that he loves to shop! He likes to shop for movies, clothes, and groceries. His favorite places to go are Walmart, Finish Line, and Schnucks. He also enjoys online shopping.
Congratulations, Alex on your new apartment and keep up the great work!