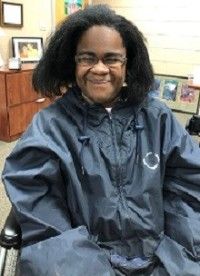 Let's meet Jasmine this week too! 
Our Meet Me on Monday highlight has combined forces with the See Me for Me campaign to spread awareness for Developmental Disabilities Awareness Month.
People all over the country are helping to promote awareness and acceptance. The focus this week is on friendship and Jasmine is the perfect person to speak on this topic. Jasmine is an amazing friend. She believes that in order to be a good friend, a person must be open-minded and supportive. She also thinks that it's important to adjust to the various needs of friends. For example, she says that she is the type a friend a person can reach out to for advice and support and is also a person her friends can call when they want to laugh and have fun. Overall, Jasmine sees the importance of being there for her friends through the good times and the hard times.
In addition to surrounding herself with good friends, Jasmine also enjoys many art forms. She likes to sketch, sing, and listen to music. Jasmine sings all genres of music and began her own YouTube channel where she uploads videos of herself singing. 
Thanks for letting us get to know you, Jasmine!