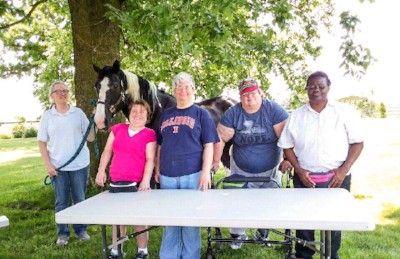 Meet RuthAnn!
RuthAnn Started with DSC in 2017, as an Employment Counselor after working 30 years as an analytical chemist. "I was headed to retirement, but then sidetracked when I came to work at DSC." She knew another Employment Counselor here at DSC and a friend met someone from the state DRS (Department of Rehabilitation Services) office at a High School reunion. Both of them recommended working at DSC to her. "My friends thought it would be meaningful and a good change for me." RuthAnn shared.
Since coming to work in the Employment Services department at DSC, RuthAnn has had the opportunity to start a group focused on learning about horses, a topic several people who choose DSC services are interested in. The group has recently visited Gordyville and a locally-owned farm. RuthAnn also leads a group that volunteers at the I.D.E.A. Store. The group sorts donations, and especially enjoys shopping with the store dollars they earn for their work.
Making such a big career transition is not always easy. RuthAnn expressed that the biggest difficulty has been monetary. In addition to working at DSC, she holds a part-time job at the Carle Gift Shop. Her favorite part about working at DSC is the people in her groups. One thing she's learned is that just because someone has a disability or doesn't appear to communicate the same as you or I, it doesn't mean that they aren't able to comprehend what's being said. This has taught her to be a more empathetic person, and a better communicator.
RuthAnn still looks forward to retirement and she is often thinking about new ideas for groups.