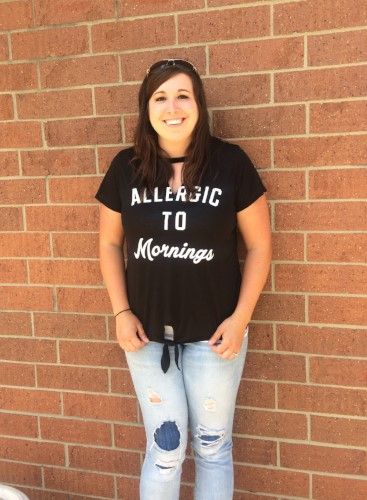 Meet Brooke!
We're continuing to highlight our Employment Counselors this summer. This week, we spoke with Brooke, who returned to DSC in February, after relocating back to the area. Brooke previously worked for the agency prior to moving.
Brooke leads the Fishing and Garage Sale Group, as well the RAK (Random Act of Kindness) Group, which you may have read about on our Facebook page. The RAK group has recently gotten attention for their Kind-a-Saurus activities, which are all about spreading kindness around the office. Most often, the group spreads kindness around the community. They have recently mailed post cards to St. Jude's Children's Hospital and taken cookies to the Champaign Fire Department.
Brooke grew up going fishing with her Dad, so when she heard about the Fishing Group, she immediately was interested in the group. The RAK Group was inspired by the movie, Pay It Forward. After seeing the movie, members wanted to put some of the ideas into action themselves and spread positivity around Champaign-Urbana. Sometimes they hold doors for patrons at the grocery store or compliment them. "It's good for our group members to receive a positive response and see the feedback they receive from shoppers when they're being kind. We are all learning to pay it forward at work and in our community."
One of the challenges Brooke shared is that with varied group interests and people in her groups. "There are days when it can be difficult to keep everyone on the same page in a group setting. I remember why I'm here though. Where else can you come to work and play with dinosaurs?" Brooke said she loves working at DSC because you can come to work and be accepted for who you are and you have the opportunity to implement some of your own ideas.
Brooke's also busy at home these days because she's getting married in three months and recently purchased a new home. Congratulations, Brooke!