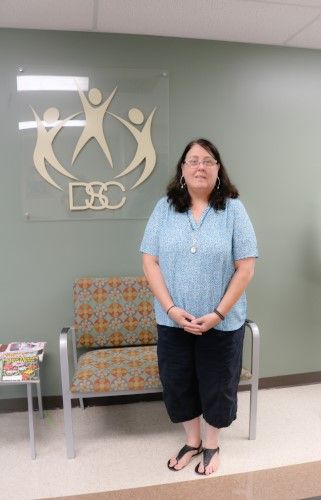 Cathy joined DSC a little over twelve years ago and began her career here in residential, later transitioning to Case Management. Cathy has a degree in Special Education from The University of Illinois and a Master's Degree from Eastern Illinois University in Training and Development. Cathy grew up with an uncle who had a disability, and her mom was his guardian. That was her first experience learning to advocate for people with disabilities.
Working in Case Management involves being an advocate for individuals who choose DSC services and their families, which may refer to many things. They help with benefits, such as Medicaid, do home visits and in general, function as a hub that coordinates everything involving each person. Cathy also serves as the Champaign County Schools Liaison for DSC and attends IEP meetings to introduce families to the services that are available as the transition from school to adult services begins.
One of the things she enjoys the most about her job is the collaboration, in addition to solving problems and working with the people who choose DSC services. "Having a son or daughter with a disability automatically means the parents have a full plate. I like helping by taking some of the pressure off," Cathy said. She also discussed how utilizing team collaboration can be a big benefit.
When Cathy is not working, she enjoys spending time with her family. She has been married for thirty years, has three sons and also grandbabies. She also likes to scrapbook and make greeting cards.