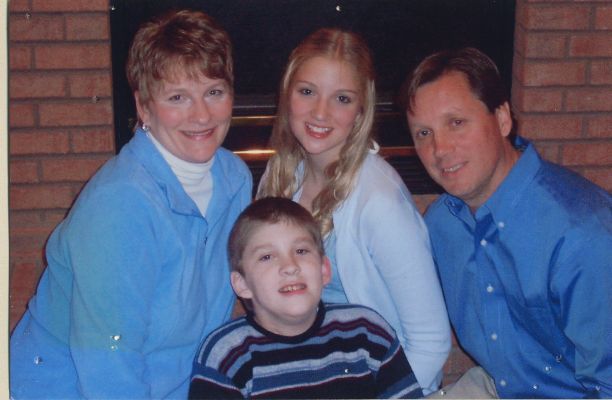 Meet The Webbers!
The Webber family was featured as our Tree of Hope Spokesfamily in 1996 when Alex was 5 years old. One day after birth, Alex experienced an episode of breathing apnea, which was only the beginning of challenges faced in reaching major development milestones. Their pediatrician referred them to DSC for evaluation and therapy services. They worked often with Judy, DSC's Children's Specialist who would come to their home and to their daycare for physical and speech therapy support services. The daycare provider loved Judy because she didn't just work with Alex, but she also worked with the other children in supporting Alex. Alex's mother, Jane Webber, expressed "When Alex turned four, I heard him say 'I love you' for the first time. I became very grateful at that moment for all the support provided through DSC."
"One of the challenges you face as a parent of a child with a disability, is that it can feel like 'We haven't done enough,' but we always had a good support system with DSC and our pediatrician." Judy assisted the family with researching solutions and would come back to them with suggestions. When it was time to transition to school, DSC was once again the family's support and helped prepare them for that environment. In fact, they attribute some of Alex's early successes in school to his time at DSC. For example, kids with Autism, as a rule, are not known for being social. However, Alex was quite social in school, and still is today.
Alex shared with us that he has fond memories of attending school. He especially enjoyed doing activities like helping build his high school homecoming float and attending the football games. Alex has grown up to be independent and proud of the freedom that he is now able to experience in his adulthood. Today, Alex is living on his own in DSC's apartment complex, C-U Independence. "I like my freedom. I can come and go whenever I want. I like my friends and it's a nice neighborhood."  When we asked him about his future, Alex says he hopes that he is able to get married and have kids one day. He also works four days a week at the University of Illinois Transfer Station. "I'm a big spender. I like to buy clothes and movies. I want to buy a house," he said.
We also talked with Alex's Dad, Roger Webber, who said that their family is excited to be here and supporting DSC again in this way. He too remembers that day when they learned of Alex's disability. "As a Dad, you have these preconceived ideas in the back of your mind about what fatherhood is going to look like. I was really athletic growing up. I had to come to terms with the fact that Alex might not play high school sports and I might not be the Dad who coached his little league team. You have to say to yourself, 'Okay, so what is this going to look like and what is the next best thing for him?' You deal with it and make the best of it."
Roger stated that Alex has exceeded their expectations. "We knew he would be able to live independently when we saw what he was able to do with his MTD Dash Pass in high school. He learned to utilize it to the fullest, and that's when we knew."
"Now that Alex is out on his own, I do get to be that coach, but in a different way." Roger told us that they try to use every moment as a teaching moment because they know that they won't always be available and want to continue to see him grow in his independence and that's something all parents think about. They continue to challenge him, even today. "So, if he calls us by default when he's having a problem with a faucet at the apartment, the first thing we ask him is 'did you already call the Apartment Manager?'"
When asked if they had any advice for other parents going through a similar experience, the Webbers said, "Find others who have been through it and don't be afraid to ask questions. Know you're not alone. It was us learning to let go which was so hard once Alex was able to move out and live independently. We're very proud of Alex and love him very much."