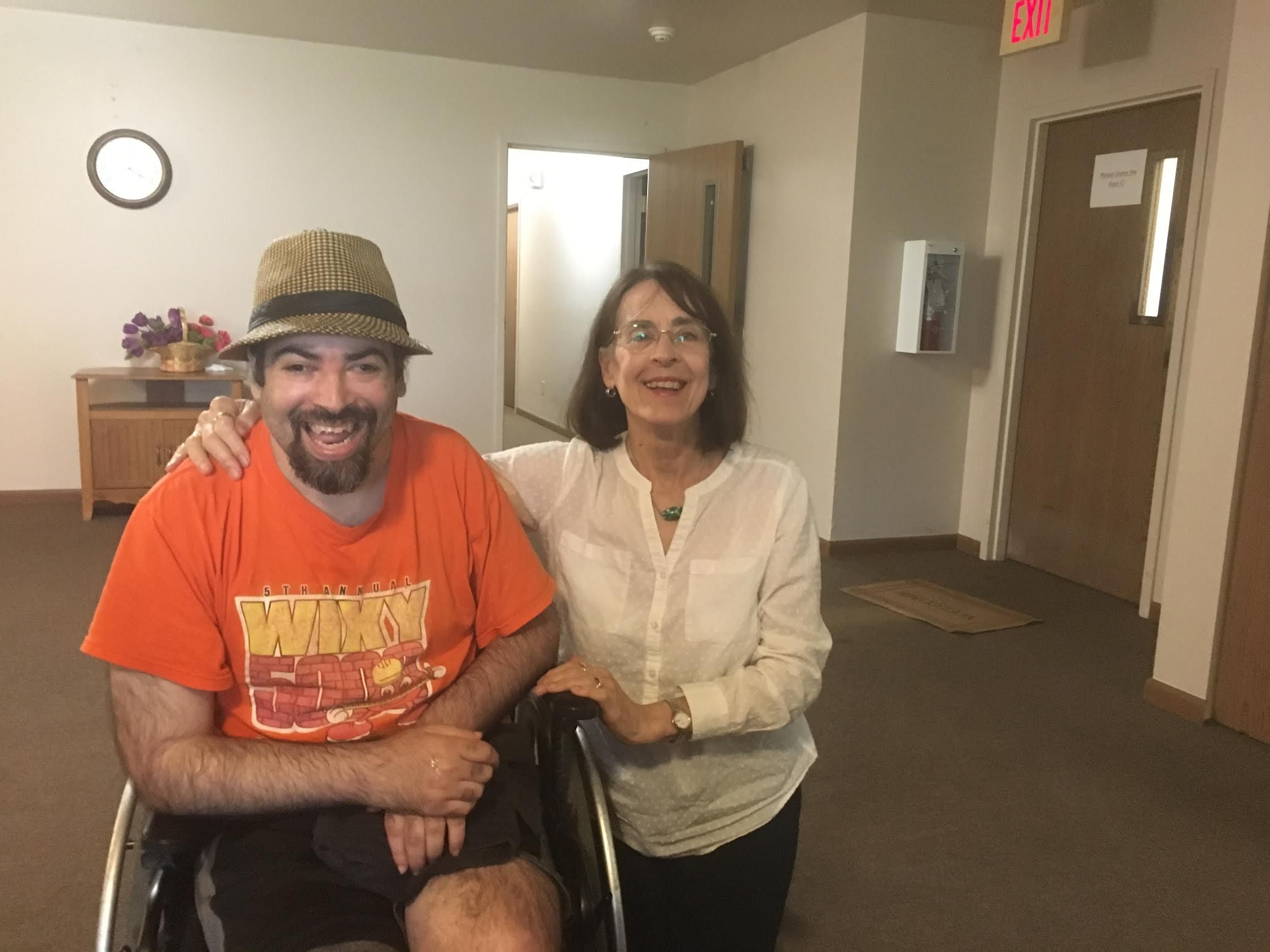 Meet Elaine!
Elaine is the mother of two. Andrew, who is forty-one years old, receives services from DSC. He lives in Urbana at one of DSC's group homes. Her daughter, Rachel teaches at the University of Missouri and has three sons.
In addition to being the mom of a child with a disability, Elaine is building a legacy of her own in Champaign County's Developmental Disability Movement. "It comes along with being a parent. You do it out of necessity and to advocate for your child. It's a means of survival," said Elaine. "People like Andrew are unwilling pioneers. Much has changed over the years, but more is still needed. We still experience fear about how he will be treated, and if he will be accepted by others."
Over the years, Elaine has served on the board for the CCAMR (Champaign County Advocacy and Mentoring Resources) one of the first organizations of its kind in the area. They began the first group home in Champaign County. Today, Elaine is a member of the Champaign County Mental Health Board, and she served a term on the Champaign County Developmental Disabilities Board prior to that.
The family became connected with DSC through the Family Development and Early Childhood programs, when Andrew was around three years old. Later, he attended and graduated from Urbana Schools and was subsequently reintroduced to DSC. "Elaine is a strong advocate for her son. DSC enjoys partnering with parents, as we work together to make a difference in the lives of the people we serve," said Patty Walters, Executive Vice-President of DSC.
As a family, they enjoy attending musicals at Parkland College and at State Farm Center. Professionally, Elaine works as a writer and poet. "Andrew made me a writer. I needed a career that would allow me to take care of him, and so this English Major became a writer." Elaine has published several books, including works of poetry, fiction, and non-fiction.
To Elaine and all moms, Happy Mother's Day, including guardians and caregivers!!