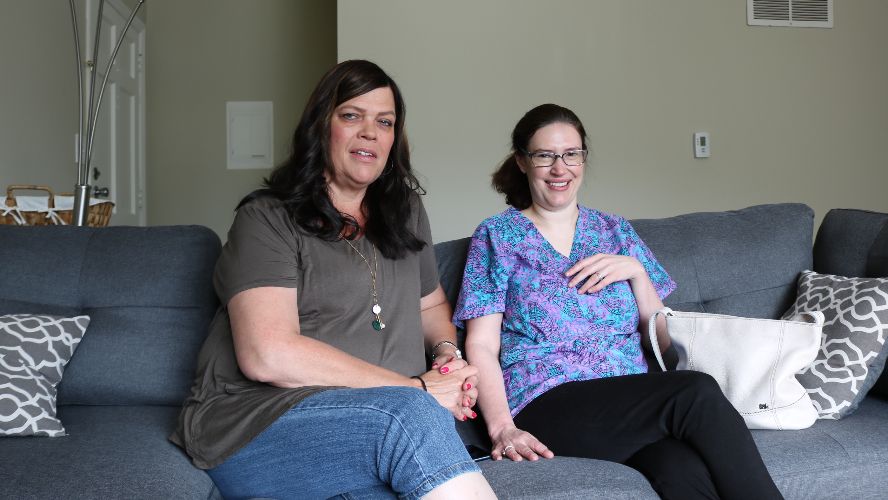 Meet JoAnne!
This month we'll be learning more about the DSC Residential Program. DSC has a wide offering of residential options around Champaign County that are tailored to meet individual choice and needs.
This week we're featuring employee, JoAnne Meyers, an Apartment Services Case Manager at DSC since January of 2018. Joanne began her career with DSC as a Health Advocate in 2010. She remained in the position for five years before moving out of the area. When she moved back, she was glad to return to the Midwest and to DSC. Including her tenure with DSC, JoAnne has about twenty-five years of experience providing services to people with disabilities.
JoAnne has nine people on her caseload, including Wendy, whose apartment we met her at today. As a member of the Apartment Services Team, a typical day for her usually involves meeting with people on location, at their apartments. Their apartments may or not be owned by DSC. The frequency of the meetings and what type of activities occur are determined by the individual person's support needs, choices and goals.
Another factor, is work schedules. With more people who receive DSC services finding jobs, it's important that medical appointments, errands, recreational activities and meetings be scheduled around their work. Wendy, for example works at a local daycare.
This means that JoAnne will begin her morning at an apartment and tasks will get completed before a person has to be at work that day. In other situations, they might spend the person's day off together, running to Walgreens to pick-up a prescription, swinging by the bank to deposit a paycheck and maybe they'll stop by Biggby for coffee. Depending on what the person has set-up, they may get groceries, or pay bills too.
"I love working at DSC. The people and my co-workers make it such a kind and caring place to work. Everyone values the people who receive services here. I love to see people reach their goals and experience progress, or when they achieve a milestone beyond what was expected. I love that."
Because JoAnne has been working in the field for quite a while, we asked her if she has tips for others looking to establish a career as a Direct Support Professional specific to residential programming.
"It can be mentally challenging and exhausting at times," said JoAnne, "You have to take time off for yourself and your family. I don't keep email on my phone, for example because I would receive notifications all the time, due to the nature of what I do. I think it's essential that I have some me time. I will also take a few minutes in my car by myself and listen to music or enjoy the quiet time. Meditation is also great. Keeping a healthy perspective is important. I know that I'm needed here and that's good, but I know it's not up to me to solve every need or problem. That kind of thinking will burn you out."
JoAnne has five children (4 adult), and a five year old still at home. She also has nine grandchildren (8 boys & 1 girl). She lost a son in 2010 and said that coming to work at DSC played a role in helping her heal from that loss. For fun, she enjoys spending time at the lake with her family, listening to music and reading.