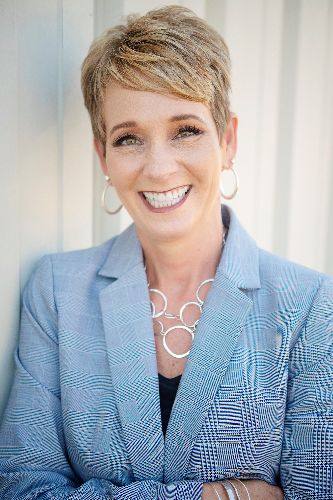 Meet Janice!
Janice McAteer, VP of Development and Communications has been with DSC for 15 years. She began her career with the agency as a Development Specialist. At the time, the agency employed two Development Specialists. Seventy-five percent of her position was allocated to focus on the referendum to create the Developmental Disabilities Board, which was not in existence yet. "Champaign County did not have a Developmental Disabilities Board yet. DSC served around 800 adults and children and the budget was approximately eight million dollars. Today, DSC serves about 1100 adults and children and the budget is a little over 13 million dollars," said McAteer.
Two years later, Janice was promoted to Development Director, a role in which she remained for eleven years, until earlier this year, when she became the Vice-President of Development and Communications. Prior to working at DSC, she also worked for her Dad in the lighting business and spent time as an elementary school teacher.
"Working for my Dad gave me a natural bent toward working in development. People often wonder what development is. Similar to running your own business in a community, it's built on relationships. My Dad told me two things. Don't be afraid to pick-up the phone and be cognizant of how your decisions affect others. He wanted me to be aware of the trickle down affect it can have on other people. I've never forgotten that and keep it in mind when I make decisions today."
We asked Janice to tell us a few things we wouldn't otherwise know about what she does in her role. "An aspect of development that may go unnoticed is the hours, months, or even years of relationship cultivating. People often don't understand the public relations side. We are working with all types of people from a donor that wants to give five-hundred dollars, to one who is gifting five-hundred thousand dollars. We are grateful for all of it, and it's our job to make them all feel comfortable in doing so. Development also gets pulled into special projects, such as real estate development. An example is when we purchased two group homes in Champaign, or the building that was purchased in Rantoul several years ago," said McAteer."
Maybe you've noticed that DSC has a new look? In July, DSC introduced a new logo and is in the process of rebranding. Last week we spoke with Brooke Armstrong, the designer DSC worked with on the campaign. We asked Janice if she would give us a behind-the-scenes perspective on what goes into rebranding an organization like DSC. "In many ways, our path to rebranding has followed our recent clinical advances. It shows who we are in a bolder way. The last few years have been hard. One thing we've learned is that we're not a little jet boat, but more like an ocean liner. When it comes to an organization the size of DSC, we don't just zip around making changes. We take our time and do it right. We're really proud of where we are and where we've been. The bottom line is that we are a non-profit and we are here to promote the people we support, but we are also a business. We've been here for forty-five years and we are a pillar in this community. We have a responsibility to the people who choose our services and to our employees."
Speaking of responsibility to future generations, you may not be aware that DSC has a Foundation. In July 1975, the DSC Foundation was established as a way to secure the agency for the future. "In the past, the state budget used to dictate every move we made. It can still be a challenge, but today we've found a way to do what we need to do with the state, as opposed to waiting around for the state. The DSC Foundation is one example of how we are creating funding solutions to further support our mission."
Janice is a wife, and mom to Connor and Taylor. She is an avid runner and active in many local community organizations, including Rotary and Executive Club.