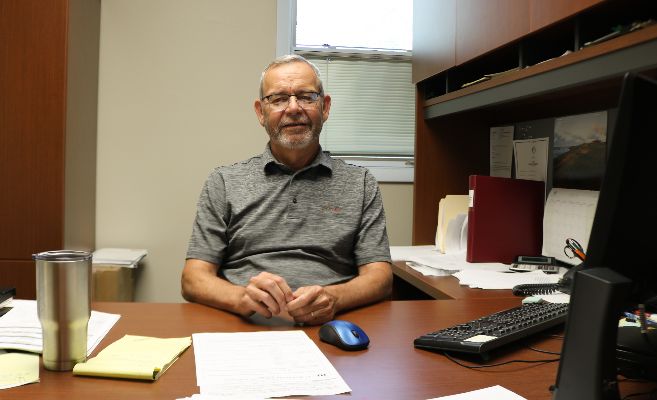 Meet Scott!
Scott Burner is DSC's recently appointed Executive Vice-President of Support Services and Chief Financial Officer. He joined the agency 7 ½ years ago, as the Accounting Director and Manager of the Business Office.
Prior to coming to DSC, Scott spent 32 years working in corporate finance for companies including Tate & Lyle and Roberson Transportation, in addition to working in operations roles at start-ups.
"I've really enjoyed these last 7 ½ years at DSC. It's a different perspective after 32 years in the corporate sector. The passion of the people here and focus on the people we serve is a noticeable difference. Finances are still important at a non-profit, but we're mission-driven and the finances support the mission. I enjoy that."
Scott told us that his job can be somewhat unpredictable and that his responsibilities span beyond the financial aspects of the agency. Maintenance, transportation, business operations, anything non-clinical are Scott's responsibility. "There is a lot of variability in what I do each day. One key aspect of my job is to analyze financial data and then pass that on to the clinical team. At our core, we are a clinical organization and we want to keep that at the forefront. I look at the numbers and give the clinical team the information that helps us operate most efficiently."
Most everyone who works at DSC is here for the mission and Scott and is no different. "I love seeing growth and progress in people over the 7 ½ years I've been here. There's one individual who was non-communicative when I started at DSC and I've watched him grow over time. Now, he comes through the Business Office and high-fives everyone," said Scott.
Maybe you've been thinking, "Someday I'd like to be a CFO," if that's you, Scott suggests it's important to always be open to new ideas and to welcome change. Whether you're in a profit or non-profit setting, everything is always evolving. There is always someone chasing you. If you're not leading and pushing change and making things better, you're going to fall behind."
We also thought that Scott might have some good money tips, since he's the CFO. Maybe you're saving for a home, car, or retirement. "The single best thing I've heard is to make saving automatic and pay yourself first. Use things like the employer 401k, an employer match and start as early as you can."
Being a CFO doesn't mean that you don't still face problems. "One of the biggest challenges that comes along with this position is the variability and surprises. I can plan my day on the way to work, but it can all change when I walk in the door." said Scott.
When Scott isn't working, he enjoys visiting his son and grandchildren in Colorado, playing golf, and hiking. He is currently reading Principles: Life and Work by Ray Dalio.