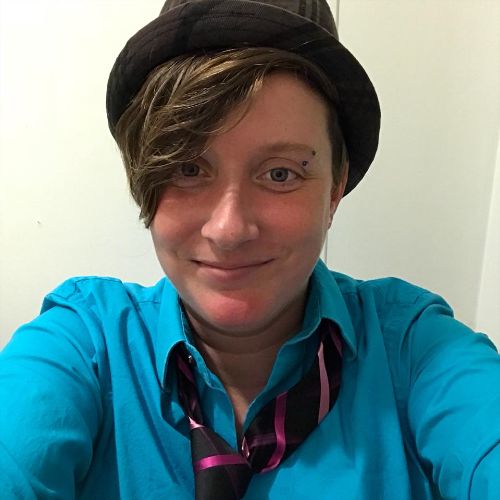 Meet Angie!
After working for a group home in St. Joseph when she was nineteen years old, Angie came to work for DSC, looking for more opportunities to grow. In 2007, she began her career with the agency in the Residential Program. Over time, she became a House Manager and then later transitioned to DT, now called CDS (Community Day Services). Angie is known around DSC as a person who works incredibly hard and doesn't ask of her staff anything she wouldn't do herself. She is well respected by her co-workers and throughout the agency. She has a huge heart for DSC's mission and is a wonderful role model for staff as she treats everyone with kindness, brings out the best in others and knows how to have fun at work.
CDS is a community-focused program that focuses on finding employment or meaningful, community-based activities that teach skills and provide growth opportunities. Additionally, the program offers exercise opportunities for folks in wheelchairs, who might not otherwise have the opportunity to get out of their chairs and stretch throughout the day.
As the manager of CDS, she oversees daily schedules, troubleshooting issues as they arise, managing staff shortages when people call in and making sure people's needs are being met. "I was hired during a time of change and a big part of my role is making sure everyone is adjusting okay and that things are moving in a positive direction," said Angie.
Another important aspect of Angie's role is collaboration. "There are a lot of moving parts. Right now, there are 76 people in CDS and we're providing community activities. That requires coordination not only within our own program, but also with our residential program, nursing services and communicating with family members."
Her biggest challenge comes when the program is short staffed and there are vacancies. "It takes a toll on the department. We get through it though. We all ban together to make it work. Sometimes though it means there are some community activities that get canceled and that's unfortunate."
Angie most looks forward to the seasonal events at DSC. "I love dressing up for our Halloween parties. We always get a band at Christmas and we have something planned all day for the parties from pin the tail on the ghost for Halloween to Christmas Bingo. Everyone really enjoys the parties. I enjoy working at DSC. It's a very rewarding job."
Outside of DSC, Angie is in a pool league, plays softball, enjoys jigsaw puzzles, spending time with her nieces and family. She also likes to cook, but not baking - "just good 'ole down home cooking."