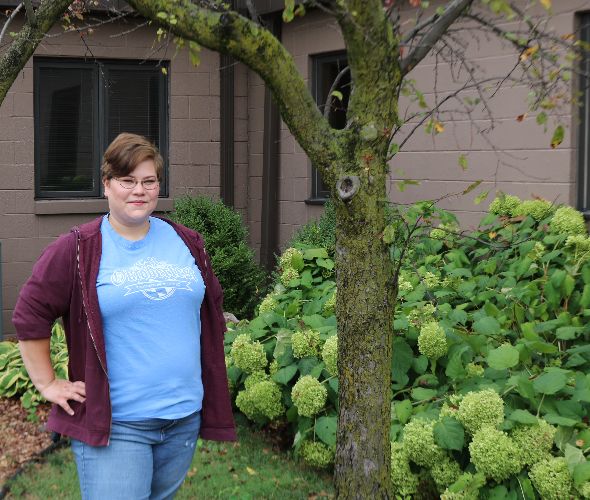 Meet Jennifer!
Jennifer is a Program Writer in the CDS (Community Day Services) Program at DSC. She's been with DSC for six years and worked in the field for nine years, beginning her career at the ARC of Iroquois County. When Jennifer worked retail, employees of the ARC of Iroquois County would stop in with the people who received their services and they caught Jennifer's attention. "They seemed to be having so much fun and I noticed how they were able to encourage one woman with Down syndrome when she was having a challenging day and I could see myself working there," said Jennifer. She later relocated to Champaign, with her now husband. As she prepared to move, her colleagues encouraged her to apply at DSC.
As a Program Writer, Jennifer and other DSC employees in the role provide structure around individual goals and maintain records and data in regards to each person's goals and what each person wants to learn. She also works one-on-one individually a few days a week when people are working on job skill tasks, such as the snack cart. If you see visual aids around DSC, it's also likely that they were created by a Program Writer. Jennifer for example, is in the process of hand-typing a screenplay for someone on a braille typewriter, so that the person who receives services from DSC can have her work typed out, as desired.
"I really appreciate how DSC focuses on people. I love that I get to work with a bunch of great people at my job and we have a good time. I feel like if you're not having fun, you're probably not doing the job right. One of my favorite times at DSC was right around the 4th of July. We were having a water fight with water toys and a person who receives services soaked me with a water gun and thought it was hilarious. I loved that because to me when a person is able to joke around with me, it means we've established a sense of trust and rapport. Building rapport is something I focus on a lot. The hard part is when people are struggling and you're supporting them while getting through that down day, but then it's great when you also get to be a part of progress when people make improvements."
Outside of DSC, Jennifer is an animal lover. She has four cats and two dogs. She does art and she's also close with her family. We're also proud that she's been a volunteer at C-U Oktoberfest, by serving in our kid's area, as the face painter. A fun fact about Jennifer, she was born in Cuba…Cuba, IL that is. She is a self-described nerd, meaning that she geeks out on Dungeons & Dragons and loves board games. Thanks, Jennifer for the great work that you do!