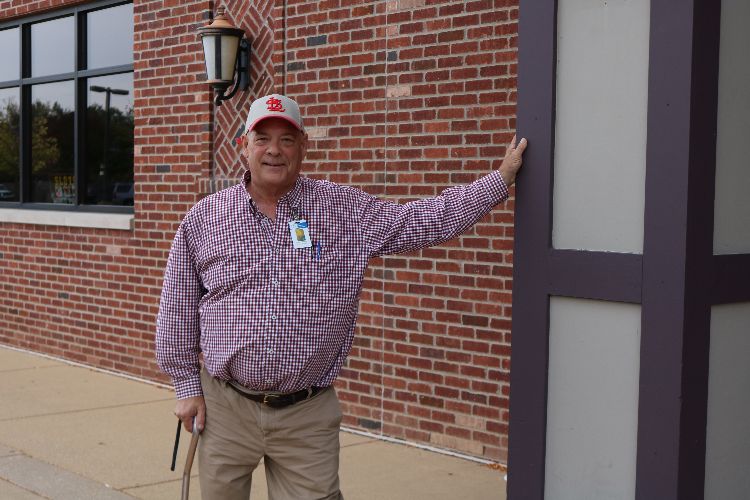 Dick Montgomery started with DSC in 2001, after moving here from Sarasota, Florida where he was working as a Manager of Supported Employment. Originally from the Central Illinois area, their family made the decision to move back for his kids and getting them in good schools. When he began looking for jobs in the area, he applied at DSC and landed an interview. He flew up to Illinois alone and met with Carol Powers. He got the job and moved into a country farmhouse in Monticello, moving his family a few months later.
Dick told us that he leans on his years of experience of getting people with disabilities jobs, as well as his own experiences from having his own physical disability. Starting in the mid-1980's, before the supported employment was a commonly-used term. Dick actually went to his CEO, helped carve out three jobs and initiate the hiring of three different individuals with disabilities at the computer company he worked for in Champaign. 
One of his first jobs was at a local Goodwill. He was told to get people jobs and wasn't entirely sure how to go about doing it, but he went out and tried. He knew if he could do it for himself, he could do it for others too. Over time, his confidence grew, as he had both success and failures, but he learned how to get himself and others with disabilities jobs.
"I learned how to sell when I was growing up. When I was a kid, I used to read Boys Life magazine. In the back of the magazine, there used to be ads where you could order things to make money-selling seahorses or greeting cards, for example. I would see those ads and believe I could do it. So, I got the greeting cards and went around to the neighbor ladies selling greeting cards. It was a win-win because I came to sell them cards and they knew I would be coming around and they'd have homemade cookies ready for me. I would make $26 and think I was rich! That was a lot of money for a kid. I used it to buy my bikes. I learned from those experiences how selling could be a mutually beneficial experience for building relationships and also profitable. I carried that over into life."
As a young adult, Dick spent a few years in California, working as a sound engineer. "I wanted to work in music, but I wasn't a vocalist, nor did I play an instrument, so being a sound guy was as close as I could get to the glamour of the music world. Unfortunately, after a couple of years without much luck at that, I came home with my tail tucked between my legs, so-to-speak."
Without a job, Dick's dad suggested he try getting a job at what was then similar to the local cable company. "I applied, but because of pride and what people would think in the community (because there was a stigma associated with working for the cable company), I didn't try that hard. After some time passed, my dad questioned me about it. 'Here's what I want you to do,' he said. 'Call Mr. See tonight. 'Dad, I don't even know the guy,' I said. 'Call him and tell him you think there are jobs that you can do sitting down. Tell him you can call people. Tell him you have an engineering degree,' so that's what I did. It was scary. I had to be vulnerable. I told them that I can do that if, you just show me how. The company had a union, so Mr. See probably had to advocate on my behalf, but I got a call back and I got hired."
Going through that process as a 19-year-old with physical disability, taught Dick to never be afraid to ask.
Today, Dick continues to work as an Employment Specialist with DSC. "That's how I get jobs at DSC today. I feel humbled that DSC gave me a platform to do something that I love so much. What I enjoy is seeing a person rewarded and recognized for something that comes natural for them. They need the experience volunteering, or in a workplace for this to occur. I also love meeting managers and business owners. I grew up with my Dad owning a business on the Square in Monticello. I saw firsthand what that was like, so I have a lot of respect for good managers. A well-managed business lends itself to being an organized, structured and predictable environment for people with disabilities to prosper in. " Dick is also certified as an Employment Specialist through the Florida Developmental Disabilities Council.
Outside of DSC, Dick enjoys watching sports and going to parks. He and his wife enjoy a glass of wine around a campfire at a local park campsite on summer evenings. He also collects vintage stereo and audio equipment.