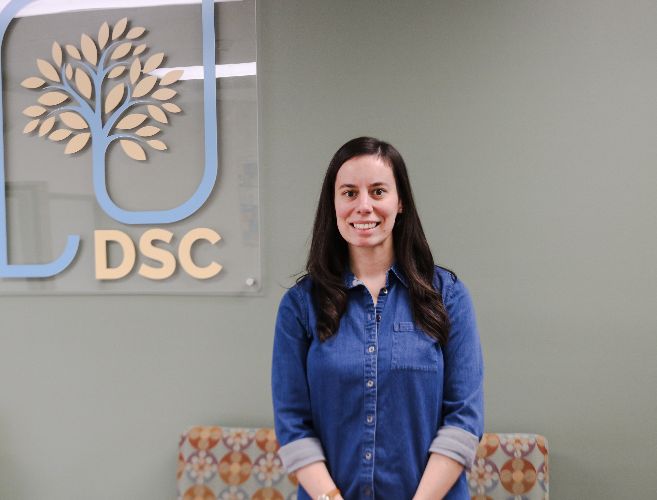 Meet Joanna!
When we focused on our Tree of Hope campaign for our weekly stories, many of the families we spoke with mentioned members of our Family Development Center team, so we thought we would highlight their program this month.
Joanna is a Developmental Therapist and Co-Leader of Play Group at DSC. She interned with the agency when she was a student at the University of Illinois. However, at the time of her graduation, there were not any openings in DSC's Family Development Center, so Joanna went to work in Peoria. She joined DSC around four years ago, when a position became available.
A big part of Joanna's job focuses on Play Group. The group is weekly and co-lead with another DSC Developmental Therapist. The group has up eight kids, not including siblings or grandkids, so there may be up to 5-8 children in the group between the two therapists. The same kids attend every week and lasts about seventy-five minutes. The program consists of circle time, art/sensory activities, gross/motor activities and snack time. The mom-tot format of the group provides a good support system for parents, as well as children.
"My favorite part about Play Group, is seeing the parents connect with each other. Often times, they exchange numbers and meet-up for playdates outside of the group. They realize that they are not alone. I also love that I never sit at a desk and I play with kids all day.
When Joanna is doing home visits, she said it requires planning because every day and every child is different. "You prepare for your day with a visit to our toy room. I come prepared with toys in my toy bag based on each child's needs, but then I always bring bubbles and books as a back-up."
If a parent is in need of resources, Joanna suggests checking out the EI (Early Intervention) Clearing House in Champaign. They have books, handouts and other resources and love for people to come in. There is also the Autism Program (TAP).
Outside of DSC, Joanna is a new mom, with a five-month old baby. She and her husband enjoy their family time with their new baby and dog. They like spending time outdoors and going hiking.