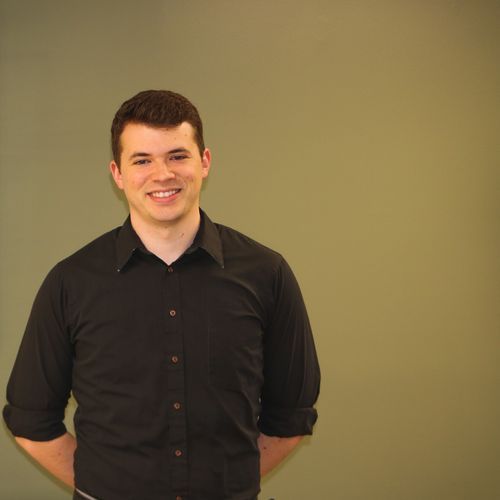 Meet Evan!
Evan Burie has been with DSC for 18 months and works in the Development office in the area of Special Events & Marketing. Since his joining the organization, Evan has become very familiar with DSC events, C-U Oktoberfest and the Tree of Hope, as well as C-U in the Prairibbean that benefits DSC. He has also been involved with starting the new Queen of Hearts game!
The game "Queen of Hearts" is a game of chance where a successful player wins a portion of the money held in a Jackpot and, at the same time, a portion of the Jackpot is awarded to DSC. 
Tickets are available at Esquire Lounge from the Queen of Hearts machine anytime during regular hours (cash & credit card).  Then, every Tuesday night at 7:00 p.m. at Esquire, one ticket is drawn.  On the spot, the owner of the chosen ticket will have the opportunity to try to draw the Queen of Hearts from a deck of playing cards that are on display at Esquire (affixed face down and numbered).  If the owner of the chosen ticket is not present to draw for the Queen of Hearts, the card they have indicated on the back of their purchased ticket will be drawn for them.
If the Queen of Hearts is drawn, the Jackpot will be paid out as described in the official Rules (available at www.dsc-illinois.org) and a new game will begin.  If not, all tickets purchased for that week's drawing will be destroyed and the game continues, week after week, until the Queen of Hearts is drawn. There are other prize amounts for the Jokers and Queen face cards – information also available on the website.
If the winner is present and pulls the Queen of Hearts the Jackpot will be split 50/50 between the winner and DSC. If the winner is not present when the Queen of Hearts is drawn, the Jackpot will be split 60 (DSC)/40 (Winner). The current jackpot is already above $6,000.
"I encourage people to come out for the drawings. Not only can you win more cash if you win, but it is also a lot of fun! When the ticket winner is present, everyone cheers and shares their best guess to the winner for the card he/she is choosing. There is a lot of suspense and fun," states, Evan. He continues, "This is a great fundraiser for DSC. It gives us an opportunity to partner with a local business and offers the potential of a big pay day for the winner and DSC without a lot of staff time which is something our other fundraisers require."
When Evan is not busy helping DSC raise money, he enjoys spending time with his wife Andrea, traveling, and playing his guitar. Evan and Andrea are expecting their first child in May.
Congratulations and thank you!