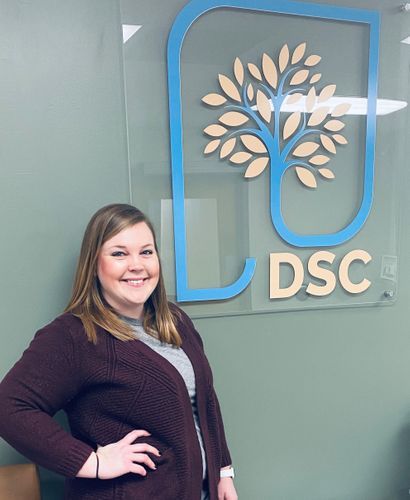 LeAnn Bell, Training Coordinator at DSC, began her career with the agency in 2016 as a House Manager at Campbell, DSC's CILA (Community Integrated Living Arrangement) in Rantoul. Prior to joining DSC, she worked at a similar organization in Jacksonville, as a Residential Supervisor. LeAnn also obtained a Bachelor's degree in Public Relations from Hannibal-LaGrange University. LeAnn left DSC for a brief stint, but returned in 2017 to accept a position as a Health Advocate. In May of 2018, she advanced to the position of Community Living Manager and later accepted her current position, as Training Coordinator in July of 2019.
As the Training Coordinator, LeAnn oversees new employee orientation and tours, performs DSP (Direct Support Professional) training, QBS (Quality Behavioral Solutions) Safety-Care training, CPR and first aid training, in addition to in-service employee trainings and annual health and safety trainings. One thing readers may not realize, is that DSC hosts trainings for other organizations outside of DSC. In those cases, their employees may join our staff for CPR or DSP trainings.
"What I love most about being the Training Coordinator is getting to meet all of the new faces here and learning about all of our different backgrounds. It's a really fun part of my job," said LeAnn. DSC employs over 200 full and part-time employees, and though they may work at any one of DSC's offices or community-focused locations, they will all go through various trainings and meet LeAnn.
Since entering the field in 2011, LeAnn said a lot has changed, including perspectives about people with disabilities. Occasionally she will encounter outdated stereotypes, or myths about working with people with disabilities. When this happens, LeAnn tries to redirect the person towards appropriate resources and education. "Sometimes people think that working with people with disabilities is going to be a burden, but then discover how much they have to offer. They're people too. A person might think they are coming here to teach people with disabilities something, but then they end up learning something from the people here who receive services from DSC."
LeAnn is also married, has two kids, ages 7 and 10. They have two dogs and they enjoy family time, watching hockey and baseball and making trips to Chicago.