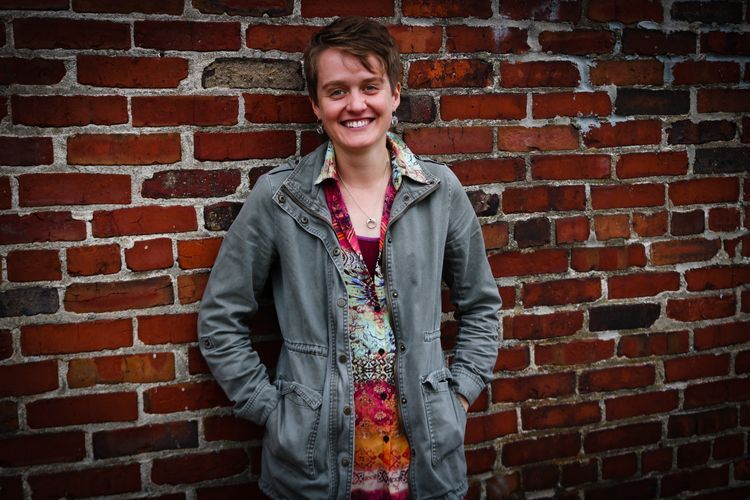 Meet Casey!
Casey is an Employment Counselor who joined the agency a little over a year ago. Her background and education are in Musicology, which she also holds a Master's degree in. She previously worked in Special Education classrooms and did research in Morocco and North Africa. Casey had plans to work in academia, however, like many of her DSC colleagues, she landed here at DSC. "When I did decide that I wanted to go a different path and began to apply for jobs, DSC was my top choice," said Casey.
In her role as an Employment Counselor, Casey largely focuses her efforts around The Crow at 110, a fairly new space for DSC. Therefore, the employment groups she works with are centered around topics that lend themselves well to that location. A few examples of current groups are Storytelling, Dungeons and Dragons and the Music group. "The venue is better suited than other DSC locations because DSC employees are not working there, so if group members want to practice their music or read their poetry aloud, they feel a sense of freedom to do so. There are large display windows on the front of the building where artwork can be displayed for passersby to see. One of the main desires expressed by group participants is for their work to be published and seen by the public. There is a real sense of ownership."
Casey said the employment program also has plans for the community to be involved with the Crow at 110. "The participants are eager to engage with other artists and writers. We don't want this to be only for DSC," said Casey. On March 7th from 3-5pm, DSC will host a Spring Open House at the venue that will feature works by DSC artists.
One challenge Casey has encountered has been with coordinating schedules. "Many theater, writing and art related events take place on the evenings and weekends. Transportation and scheduling can be quite challenging to get everyone there and on the same page outside of their time here at DSC. Funding is always a challenge too. We've also learned that many buildings we'd like to visit in the area are not accessible to people with disabilities, which means we can't show everyone the artistic works we'd like to."
The DSC Storytelling group began creating a DSC Zine last year, and the group has several members who have become passionate about their writing. "What I love about my work here is seeing growth in the people we support in the area of arts. One person comes to mind that didn't see themselves writing at all. Now, they're writing forty-page, historical-fiction pieces. That's something to get excited about." Other groups at the Crow at 110 also make natural soaps, handmade cards and candle products.
When it comes to Casey's hobbies, she said she gets to incorporate many of those into her work here at DSC. She's a reader and a writer and enjoys role playing. She's also about to embark on running her second half marathon.