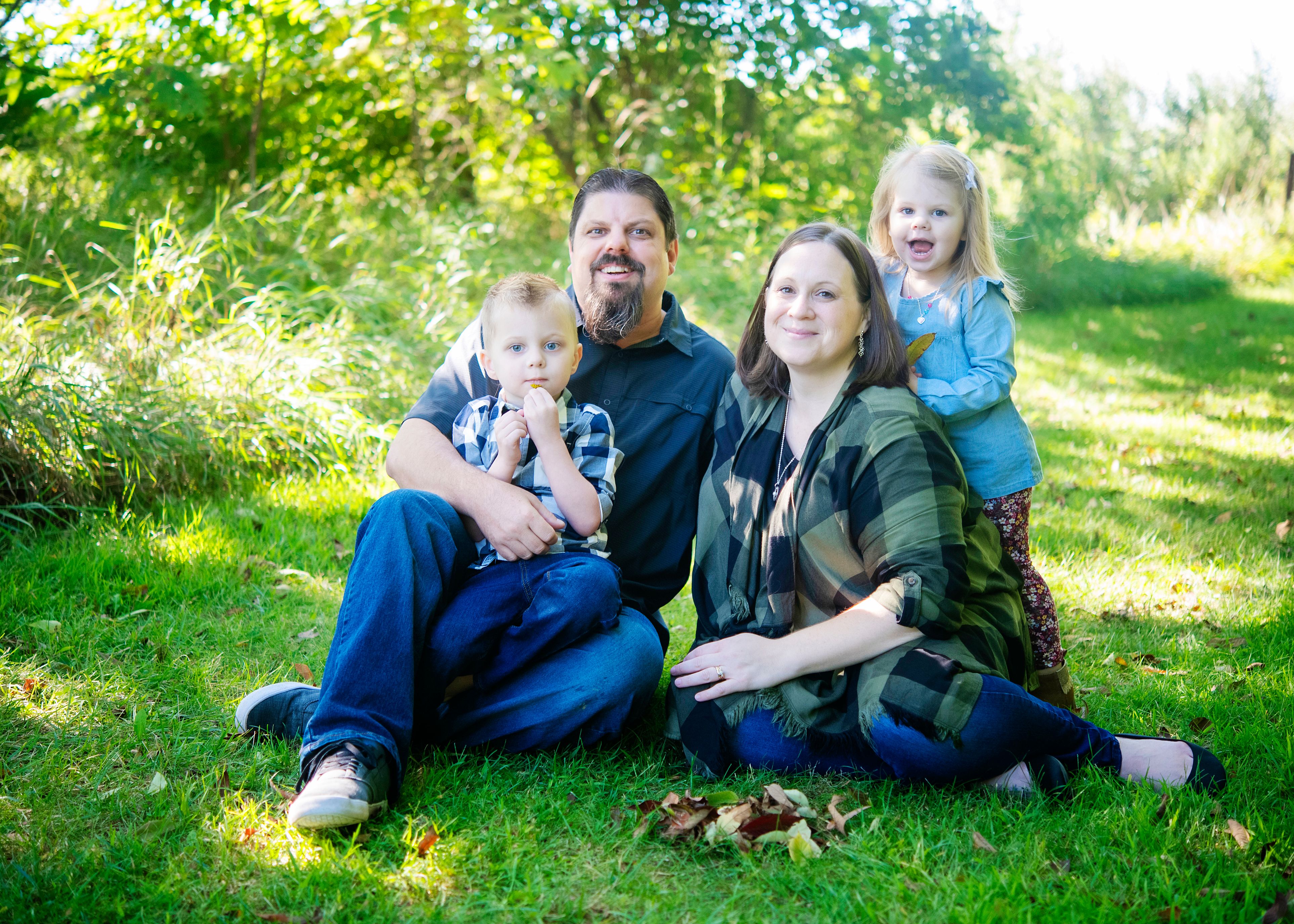 Meet Elizabeth!
You may recognize Elizabeth and her family because they were the 2019 Tree of Hope family. Today, we especially want to reflect back on their story and highlight mom, Elizabeth. Not only is she mom to Garrett and Everly, but she is also a Residential Program Administrator here at DSC-another kind of mom!
Here's a look back at their story: Garrett, a funny, loving and kind four-year old was born to Elizabeth and Josh Hayn in August of 2015. After a difficult season of struggling with infertility and miscarriages, they became miraculously pregnant with Garrett.
Though closely monitored throughout her pregnancy, Elizabeth required an emergency C-section at 36-weeks due to preeclampsia. Garrett was born with Intrauterine Growth Restriction, a true knot in his cord and the cord was wrapped around his neck.  Little Garrett Hayn was welcomed into the world with love and joy, despite the early challenges Elizabeth and Josh faced. Garrett spent his first thirteen days in the NICU and required tube feedings. It was a dream come true when Garrett came home and together, the Hayns began living life as a family of three.
It did not take long before Elizabeth and Josh noticed that Garrett was not making eye contact and was delayed in meeting many of the milestones that the parenting indicated he should be meeting. They discussed their concerns at each well baby visit, but it was not until Garrett went through a regression from 15-18 months and lost skills that he had previously acquired, that their concerns were validated. They were referred to a developmental pediatrician and at 21-months old, Garrett was diagnosed with Autism Spectrum Disorder. 
When Elizabeth and Josh received Garrett's diagnosis, they were not surprised and somewhat relieved because they had the information they needed to move forward. "We kind of expected it." When they finally received the referral they needed to Developmental Pediatrics, Elizabeth said they were then able to take action and do something about what their family had been experiencing. "From there, we were connected with DSC. We jumped right in, working with [a DSC Developmental Therapist] and then it was Early Intervention. [The therapist] was in my house every week-she felt like family and she was my lifeline."
Beyond administering treatments, the therapist pitched in and helped them navigate the system. They began with play project and added developmental therapy, as well as speech, feeding, physical and occupational therapies. "[She] was my rock. Garrett took to her immediately. She had a heartwarming bond with him. Her investment was always with Garrett vs. 'I'm here to do DT (developmental therapy) today,' all the while she was also providing support to me, as Garrett's mother."
The family was beginning to see progress, Garrett is non-verbal, so it could be hard to see at times, but there were indicators. "I could say 'Judy's coming' and there were days he would watch out the window for her to arrive. He even said an approximation for her name several times." 
Despite the past issues with infertility, the Hayn couple conceived again following Garrett's birth. In August of 2016, Elizabeth gave birth to a daughter, Everly who is now three years old. Little Everly brought a world of changes into their lives when she was born.
As Everly grew, they began to have concerns about her development as well.  "DSC really came through for us. I was a stay-at-home mom and was now concerned about Everly too, as well as Garrett."  DSC stepped in, yet again, by screening Everly to see if her delays were real or just the result of her imitation of Garrett. Through the screening, it was determined that Everly did have some delays, so a different therapist from DSC began working with her to address them. DSC really came through for us - again.  The therapy Everly received, in addition to attending Playgroup, proved critical for Everly's development.
Through Playgroup activities, DSC therapists demonstrated key skills, including socialization, modeling and working with other children. This experience not only helped Everly, it also helped Garrett who was who was able to attend sessions over the summer with his sister. We realized how vital these services were to our whole family.
Today, Garrett loves the outdoors, water, music, his grandparents, jumping and school. "He can't wait to go back to school every day. "He is a very sweet and affectionate little boy. I am incredibly grateful for and in awe of the dedication, support, and care all the DSPs that we work with are selflessly giving every day. From the teachers and therapist's working with my son to the staff here at DSC working to support the individuals we care so much about, I'm so thankful for knowing these incredible people."  
Happy Mother's Day, Elizabeth-Thanks for all you do, especially during these times! That goes for all the moms in the DSC community!!