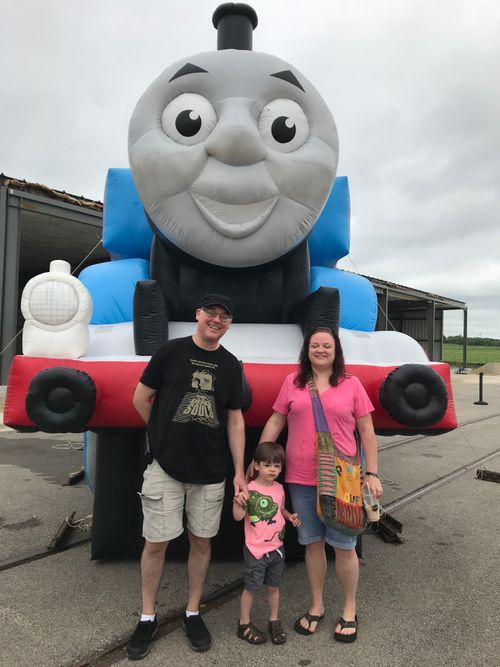 Meet Bret!
This week, we're hearing from another father on the frontlines. Bret Suttle is a Direct Support Professional (DSP) in one of DSC's homes and based in Rantoul. He's been with DSC for 15 years. He was working at Swann Special Care Center and was looking for something new, when a co-worker suggested that he look into DSC. He had already heard good things about DSC so he decided to give it a shot. "The rest is history," said Bret.
"As a DSP, I work with 8 awesome residents at our Campbell home in Rantoul. I assist them with their daily living skills and, hopefully, bring as much joy and happiness into their lives as they bring into mine. I think the best advice I've ever received is that you should treat the residents here with the same care and respect that you would give to your own family-that has always resonated with me."
Bret said he's enjoyed many memorable moments at DSC, but one very light-hearted moment in particular stands out as a one that always makes him laugh. "It happened one day as I was assisting a resident with the water faucet. I had accidentally sprayed my shoe with water so I sang to the tune of the song, Farmer in The Dell. 'I've got water in my shoe, I've got water in my shoe, hi-ho the dairy-o, I've got water in my shoe,' I then asked the resident, 'Hey, what do I have in my shoe?' to which he replied, 'an idiot.' He laughed, and I laughed. I told him that he had a point! Random moments like that make you realize how fun your job can be."
Bret is also a husband and father. He has one son, Reeve, who is 4. "Before Reeve was born I thought the concept of fatherhood would be "interesting," but after my wife became pregnant and Reeve was born I realized that "interesting" was a huge understatement. The act of becoming a parent is so life changing, and so blissful, it is hard to find words to describe it. Becoming a parent was like finding out there was a world full of color out there, after only seeing in black and white your whole life. I enjoy every moment that I get to spend with my son, and being a dad is the greatest experience I've ever had."
Bret said he hasn't had the opportunity to sit down and read a book in the last couple of decades, but his favorite books are The Hobbit and The Lord of the Rings trilogy by J.R.R. Tolkien. He enjoys watching horror movies, especially Italian and American horror films from the 80s. Their family has 3 turtles-A box turtle named Lilly, a Russian tortoise named Minnie, and a large Red Footed South-American tortoise named Zappa (but we just call him Turtle).
Bret said their son LOVES trains, especially Thomas the Tank Engine, so many of their family activities revolve around trains. "Last year we went to a big Thomas the Tank Engine show near Chicago called Day Out with Thomas and we also went to the Polar Express in Monticello. This year we are going to take him on the Amtrak for a short trip from Rantoul to Champaign and back and we are also going to the Indianapolis Zoo since he loves animals. When their family isn't taking bigger trips, they enjoy local parks and playing around the house and backyard.
Happy Father's Day, Bret! We appreciate all of the dads who are a part of our DSC Community.