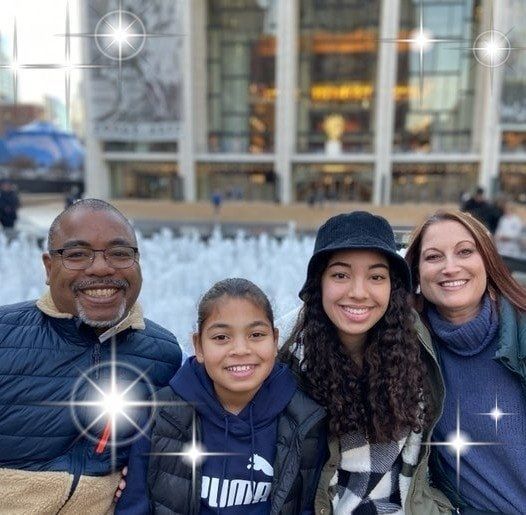 As part of our focus on the Tree of Hope Campaign this month, we are continuing to highlight our Family Development staff.
Meet Nicole Sikora, DSC Family Development Director!
Nicole Sikora is the Family Development Director at DSC. Nicole came to DSC after working in similar roles at other social services agencies in the community, with over 21 years in the field. Nicole went back to school in her twenties to get her Master of Science, Community Counseling from Eastern Illinois University. After graduation, she spent 12 years at Cunningham Children's Home as a residential therapist. Nicole was later hired as the Early Childhood Mental Health and Development Program Manager at Community Elements, where she had oversight of programs for children ages 0-5. Nicole then became a supervisor at Choices and was later hired for her current position at DSC and will celebrate her 3rd anniversary with DSC in April.
Family Development includes Parent Wonders, Early Intervention and Caregiver Connections
As the Family Development Director at DSC, Nicole is responsible for the day-to-day operations of three programs, Parent Wonders, Early Intervention, and Caregiver Connections. This includes establishing and monitoring progress toward program goals, ensuring program adherence to local, state and accrediting body regulations and establishing, and maintaining collaborative relationships with other community providers. She also serves on several boards and committees in the community.
Nicole Leads a Dedicated and Specialized Team Focused on the Infant-Parent Bond
A unique benefit of the Family Development is one of the tools used among the staff, known as FAN (Facilitating Attuned Interactions), a reflective process where parents learn to pause and think before reacting. Nicole explained that when FD staff use FAN, it creates a culture in the program where mindful parenting is naturally-modeled. Over the last year, she and her staff have had the opportunity to work virtually with a consultant to learn and further integrate FAN. The program also places a high-value on viewing families from a trauma-informed, cultural lens, in addition to a family-centered and person-centered approach.
One of Nicole's passions is working with her team to identify the areas where they want to grow and are excited about learning more. "Our team brings an amazing level of skill and compassion to the community every day with the work we're doing. With a focus on training and equipping, our team stays excited about our work, which is important when we're working in what can sometimes be a stressful environment." said Nicole. Among the DSC Family Development team are two, certified lactation consultants, a staff dedicated to developmental screenings, a speech language pathologist specializing in communications/feeding disorders, an infant health consultant who works with daycare providers, and DSC is one of the few agencies in the area offering certified PLAY Project therapy, an evidence-based autism intervention therapy.  Furthermore, the Parent Wonders program is Quality-Confirmed by their chosen evidence-based model, Baby Talk.
Moving forward, Nicole hopes to see the program continue to expand. "My vision is for the program to make sure every family with a child under three has knowledge of, and access to our services. We know the families are out there. Our goal is to ensure that we continue to find them and be creative in how we go about reaching them," said Nicole.
What We've Been Learning While Leading Families through the Pandemic
During the last several months, the Family Development staff has adapted in many ways to stay in touch with families and to continue to provide services during the pandemic. The program has reached out to families by phone and virtually, as well as by dropping off activity bags with the needed supplies to create craft activities. Nicole explained that they've seen how vital these connections are. "For families with young children during a pandemic, hearing from us right now keeps them connected to parenting programs, which results in furthering the parent-child bond."
Nicole said they've also seen how virtual programming can help them in the future. "Although in person is always best, we're seeing how the option of virtual offerings may reduce appointment cancellations in the event of bad weather, for example." The program has also had more access to resources, such as interpreters, due to online availability during COVID-19.
Family Life Outside of DSC
Native to the Champaign-Urbana area, Nicole is married, has two daughters and three cats. Her husband teaches at Centennial High School and is the Parkland Soccer Coach. They stay busy with their youngest daughter's Club Soccer team and watching their oldest daughter perform in the Fine Arts Department at UHS and sing Acapella. During this COVID-19, they've been intentional about trying to create new memories together by having family craft nights and making new recipes together. They've made homemade crepes, pot stickers and created their own hot chocolate bar at home.
Thanks, Nicole for all you do for DSC!
For more information about the Family Development, please call the Director of Family Development, Nicole Sikora at (217) 356-9176.