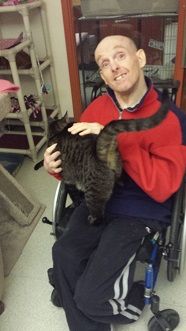 Danny is a jovial young man with a creative spirit. He loves to laugh, smile, and have a good time. He currently works as a materials handler at DSC, though he would prefer having a job where he would be able to utilize his artistic nature more often. He finds enjoyment in creating art in many different platforms such as writing, painting, drawing, and dressing up in different hats, and masks.  He hopes for an opportunity to dress up and work at a Haunted House one year. He is proud that one of his paintings will be part of the silent auction at the CU in the Prairibbean event on August 6th.
Danny is also a man with a big heart who cares deeply about his friends and family. He recalled having a good time on a train ride with his sister. He looks forward to spending time with friends going to the movies at the Carmike Theater in Champaign, shopping at Walmart, Party City, and The Dollar Tree, and going out to eat at Chili's. He recently went on a trip to the Field Museum as well. Danny also helps out at the Champaign Human Society whenever he can.
In his spare time, he enjoys browsing through National Geographic magazines or playing computer games. Danny expressed that he would like to grow a beard, and has a personal goal to go swimming one day at the Stephens Family YMCA.