C-U in the Prairibbean XV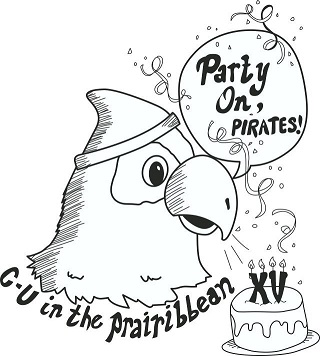 C-U in the Prairibbean is a Jimmy Buffet themed party held in downtown Champaign every year. The event is hosted by the Eastern Illinois Parrot Head Club (EIPHC), who's whole motto is to "Party with a Purpose!"  There is great live music, tasty food, lots of drinks, and a large silent auction, all to benefit DSC. A cash raffle is also held, with the winner walking away with $2,500! This year will be the 15th annual event. 
This year's event is to be held on Saturday, August 3rd! The event will kickoff at 5:00pm and go until 11:00pm that night and will be held in the parking lot at the corner of Neil and Washington (in front of the Children's Orpheum Museum). Parking for the event is available in the Hill Street Parking Deck or street parking downtown.
Cash Raffle Tickets will be available for $5 each or 5 for $20. Each ticket has wonderful coupon savings on the back. 
Event Tickets will be available for $10 each. Each ticket also has valuable coupons on the back!
All tickets purchased online will be available for pick up at WILL CALL the night of the event.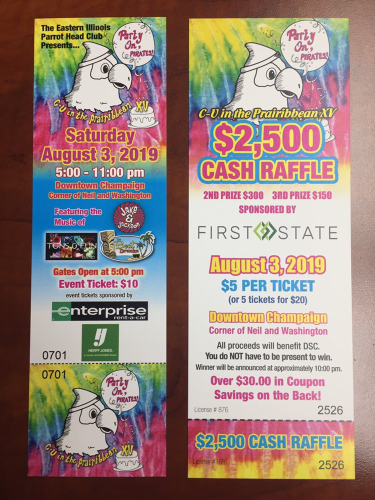 ---
SCHEDULE OF EVENTS
5:00                      Gates open
5:10                       Welcome, announcements; introduce Jake and Jackson Tatar
5:15- 6:15           Jake and Jackson's set
6:15- 6:30          Announcements:  Silent auction, cash raffle, food, etc. Introduce The Tons O' Fun Band
6:30- 7:45          The Tons O' Fun Band set
7:45- 8:10          Announcements: silent auction cutoff time (9:00) & cash raffle drawing time (9:40); DSC and Individuals Served speak        
8:15                      Introduce The Boat Drunks; first set begins
9:00                     Auction tent closed
9:30                     End of first set
9:30                     Silent auction tent re-opens for winners
9:40                     Drawing/announce cash raffle winners 
9:45                     The Boat Drunks final set begins
11:00                     Event Concludes
---
Volunteer's Needed
Your volunteer help is needed! There are many different ways in which you can join in the fun as a volunteer! As a volunteer, you will get a free C-U in the Prairibbean t-shirt! Grab your family and friends...click below to sign up!  Thank you for help us, "Party with a Purpose"! 
Questions? Please contact Evan Burie, Special Events & Marketing Coordinator, at eburie@dsc-illinois.org. 
---
This year we are proud to have Neil Street Blues and Dragon Fire Pizza as our food providers. Their delicious food is sure to hit the spot while lending to the theme of the fantastic party!
---