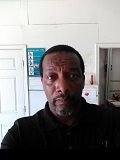 A Meet Me on Monday Special Edition.
Today we will be recognizing one of DSC's employees. This article was written by our guest writer, Amy, who resides in one of our CILA's.
I have known Dino for a very long time, over 11 years. He was my supervisor when I worked at Southland for DSC. Dino is a great supervisor. He would take consumers out to the movies, the zoo, and many other places. He played on the softball team and I was on the team also. He is very fun to be around and can make you laugh when you are having a bad day. If a loved one passed away and an anniversary of their birthday came around, Dino is the one who can cheer you up. Dino loves sports, he was on the DSC basketball team and bowling team. Also, he can draw great pictures and illustrations in his spare time.