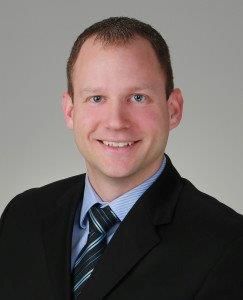 Meet Zach Wetherell!
Zach is a DSC Board Member having joined DSC's board in 2013. Zach became interested in DSC after seeing an informational DSC video at a Champaign Rotary meeting, in which Zach in a member. Zach was looking for a way to get more involved in community leadership and felt especially drawn to DSC because of having an uncle who was supported by a similar agency, ARC, a national organization with statewide chapters that support disability assistance, programs and advocacy. In fact, Zach's grandpa was a founding board member of ARC!
Zach approached DSC's CEO, Dale Morrissey, about ways he could be involved and joined the Prairie Homes Inc. and C-U Independence Inc. Board of Directors in 2013. These boards are affiliate boards to DSC. Then, in 2015, Zach joined DSC's Board of Directors and is currently serving as the Chair of the Tree of Hope Committee. 
Zach grew up in Stewardson, IL and studied finance at Parkland College and then the University of Illinois. He is currently a commercial broker with Coldwell Banker Commercial Devonshire Realty and is the Owner Services Director for the company's property management division. 
Zach and his wife Brittney have two sons. He enjoys spending time with his family and watching his sons grow. His hobbies and interests include commercial real estate, traveling, baseball, golf, skiing, boating, and hunting.
When asked some of his favorite things about being on DSC's Board, Zach shared that he enjoys meeting and getting to know our program participants. He admires that when they face challenges, they do it with a positive attitude and smiles on their faces. He appreciates DSC's proactive approach to community services and our new, focused mission: DSC supports people to live a rich and meaningful life.  
He feels the biggest challenges are the lack of commitment and willingness of our state to provide adequate funding for disability services.  
Zach is a huge asset to the team at DSC and we appreciate all he does for our community!