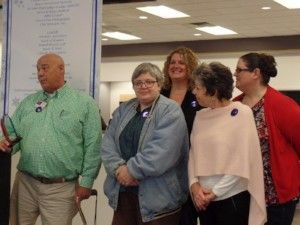 Meet Dick Montgomery!
Every November, we recognize just some of the wonderful people and groups that support the people at DSC.  For today's Meet Me On Monday, we are meeting our 2017 Special Recognition Award winner! This award isn't given annually, but rather only when a recipient stands out above the rest. We are excited this year to give this recognition to one of our own…Mr. Richard (Dick) Montgomery, Employment Specialist. 
Dick has been employed with DSC for 15 years, helping people with disabilities secure 126 jobs in approximately 70 different businesses. Wow! Take a stroll into Dick's cubicle at work and on his dry erase boards that line the walls lists every person he has helped and their place of employment.
Dick's accomplishments are the result of hard work, his ability to listen to and talk with potential employers, and his gift to connect with people. While customized employment is a newer concept in supporting people with disabilities, Dick has been doing this for years. His focus has been on seeking job opportunities for individuals that fit their interests, strengths, and natural supports. From agriculture to beekeeping to food service to retail, and so much more, Dick has done it all and has literally worked every hour known in the employment world as he provides support that ensures the most successful placements.
Dick's commitment extends to the employers as well. As mentioned earlier, Dick enjoys connecting with people and understands the value of meaningful relationships. Dick's approach to employers is one that helps to find solutions for existing problems or sometimes, he can even point out ways for greater efficiency. Although, we all know the world of employment is not without its bumps and sometimes potholes, so when challenges occur, Dick is available to work with the employer and the employee to get things back on track. His relationships with employers and employees are trusted and shared, so together everyone prospers.
And it is no surprise that this dedication and skill set have lead him to help his many co-workers. Dick has become an invaluable mentor to all the new staff that are starting out their careers as Employment Specialists at DSC. His openness and support helps to lay the foundation for the same kind of success he has had, which really means laying the foundation so hundreds more can find successful jobs right here in our community.
Congratulations, Dick, on being the 2017 Special Recognition Award Winner and thank you for all you do!