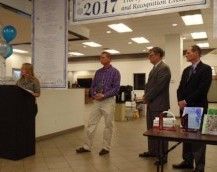 Every November, we recognize just some of the wonderful people and groups that support the people at DSC. Today, we are meeting our 2017 Public Service Award winner!
This award isn't given annually, but rather only when a recipient stands out above the rest. We are excited to present this year's award to Fraternal Order of Police Illini Lodge 17.
Illini Lodge 17 is local police officers committed to community service. They are one of the many organizations in our community that contribute in ways many are not aware, and we are shedding some light on the amazing things this Lodge does for children and adults with disabilities, and their families in our community.  They have impacted DSC for many years through the donation of food baskets, the donation of car seats, and providing full scholarships for adults with disabilities to attend camp.
Each year, DSC's Family Development Center reviews the families currently receiving services and identifies those families who are food insecure and submits those names to Illini Lodge 17.  Felicia Gooler, DSCs Family Development Center Director shares, "I don't remember the Lodge ever turning away one of our families."
Since the beginning of the food basket program, Illini Lodge 17 has donated over 6,000 food baskets to families right here in our community.
They also provide multiple car seats to families in need, ensuring the safety of growing children.  As an organization that serves many families who struggle financially, we feel incredibly fortunate to have Illini Lodge 17 who works with us in providing the best services and safety needs for these families. To date in our community, through all organizations that help to support families in need, Illini Lodge 17 has distributed over 2100 car seats.
Now, let's talk about camp! As summer begins to roll around, if you are working in the adult programs at DSC, you will start hearing the excitement brewing about attending summer camp! These camps offer a great deal of fun with activities such as swimming, fishing, horseback riding, boating, arts and crafts, and more.
These weeklong camps are the highlight of the summer for many individuals, and you can imagine, a week away builds confidence, increases independence, and offers new experiences for those who participate.
Many individuals cannot afford the nearly $700 fee. Once again, in steps Illini Lodge 17. Over the past three years, 36 adults from DSC have attended camp on full scholarships from the Lodge, and since the inception of this program, the Lodge has sent over 850 children and adults to summer camps from our community.
As police officers, these people already give so much…and we want to recognize the ways in which they continue to go above and beyond as public servants.
Congratulations on being selected as the 2017 Public Service Award recipient!