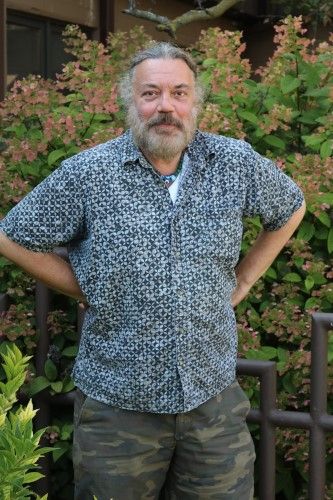 Meet Mete!
Mete is native to Urbana and has been with DSC for 2 ½ years. He works one-on-one with people who choose DSC services, sometimes individually or in small groups related to employment, recreation or other activities.
A self-professed creative who enjoys being able to use his artistic skills at DSC, Mete told us that he is most passionate about creating opportunities for choices for the people in his groups. His groups do a lot of art and jewelry making. While some of us may have grown-up hearing adages such as "Practice makes perfect," Mete explained that he instructs his groups "Practice makes you better. It's the process, not necessarily the end product we're going for. The end goal is to improve, not to be perfect. This applies to a lot of us. I mean really, are we all striving to be Tiger Woods, or would we be thrilled if we could simply improve our overall game?"
We asked Mete to tell us something that we may not know about being a DSP and here's what he had to say. "DSPs are advocates for the people who choose DSC services. So, if we're making a request, or filling out a form, given the amount of time we spend with the people in our groups, know we are doing it because we have something in regards to that person in mind, not a personal agenda. We are advocating or attempting to help them reach a goal or maybe we are communicating for someone who is unable to, but we are advocating."
Mete said that one of the things that really helps him on a day-to-day basis is his co-workers, stating that they work as a team to offer the best services to their groups. For example, each person on the Community Day Services Program Team has expertise in different areas. They each know different people better than others. It's in those cases that they may need to ask someone else or rely on each other, which is necessary for a job like being a DSP.
"I've had a lot of different jobs. This is what I like to call my 'zen' job. I have a motto that I learned from my father and grandfather, 'live in the celebration of the moment,' said Mete "Working at DSC is the kind of job that gives me the opportunity to do that on a day-to-day basis."