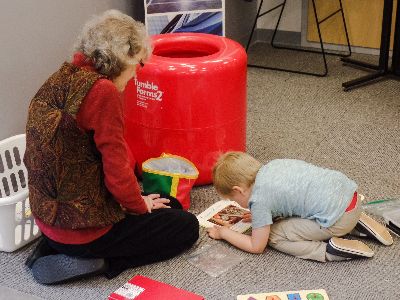 Meet Judy! 
Judy Ullom has been a Developmental Therapist in our Family Development Center for over 27 years and is also a PLAY Project Consultant (Play and Language for Autistic Youngsters). As a developmental therapist, Judy's focus is on providing early intervention service to children ages 0-3, together with their family. Children enrolled in the PLAY Project receive services through age 5.
Developmental Therapists at DSC do initial evaluations for a child and provide ongoing developmental therapy. They work on goals a family identifies based on outcomes of a team evaluation including therapists from other disciplines, as well as parent concerns. For example, a family might want to focus on talking, walking, or participating in family routines. All of Judy's work happens in the home. "This takes a great deal of trust on the part of the family," Judy tells us. "Relationships with families grow over time. There is an ongoing dialogue that goes both ways, including a willingness to share, question, and learn from each other." 
Judy is also a trained Play Project Consultant. The Play Project is an evidence-based autism intervention devoted to helping parents develop a better connection with their child through play, and helping the child improve their language, development, behavior, and social skills. In her role as a PLAY Project Consultant, Judy instructs families on PLAY Project methods, principles, and techniques to help families deliver the intervention with their child throughout everyday interactions.   
We asked Judy about her favorite Tree of Hope memory and she said 2017 was memorable. She was invited to travel along with the Sprau family when they were the spokesfamily. With two active and curious children with autism, the entire family, including the grandparents, were involved in Tree of Hope campaign activities. "There were smiles to spare during live sessions in the TV studio when the children climbed on to the host's lap with a book for her to read during the taping. I saw from the inside how much Tree of Hope families give back to DSC when they open their hearts to share with others, and what a commitment the family makes to DSC to be a part of this campaign."
Judy tells us that she has learned a lot over the years working with families that has helped her grow as a person and as a therapist, "especially about parenting and accepting challenges with such grace. It has made me a different person."