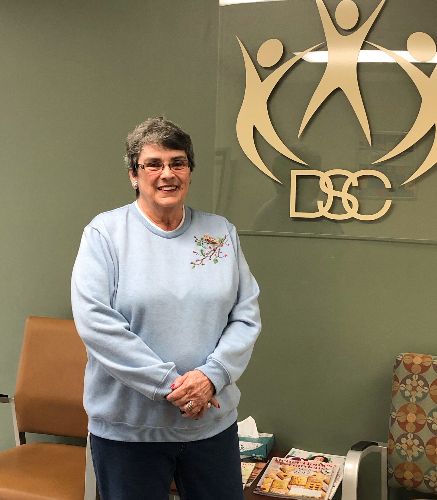 Meet Teola!
If the name Teola Trowbridge has a familiar ring to it, that's because you may have seen it on the News-Gazette's 70 over 70 finalist list in March. Nominated as one of the movers and shakers in the Champaign-Urbana community, Teola has definitely been an influential force around DSC.
Teola's history began with DSC when she relocated to Champaign from Wisconsin. At the time, she was Logistics Manager for Kraft Foods, and DSC was doing packaging work for Kraft. During her tenure there, she met Kyla Ray, Dale Morrissey and others from DSC. Because of the many relationships that developed over the years between the two organizations, Teola was invited to join the DSC Board of Directors.
In 2001, one year after her retirement from Kraft, Teola joined the board and has continued in her service to DSC. "Being a board member sometimes means stepping up to challenges and speaking up for those who do not have a voice. I remember when we were going door-to-door for the drive to get the Yes vote," Teola explained to us, referencing the 2004 campaign DSC led to educate Champaign County voters as to the critical needs that existed in our community for people with disabilities. This effort resulted in a referendum placed on the ballot in November of that year, which successfully passed, creating the now Champaign County Developmental Disabilities Board (CCDDB). "Janice McAteer and Dale Morrissey and others, we were all a whirlwind trying to make it happen and help the community understand why funding was needed. You see firsthand why advocating is needed. What we do here is not always easy. You get way more than you give back, but I stay involved because what we do and being involved in the community is so important."
Teola's tireless efforts in her volunteer capacity that ultimately created the CCDDB, needed further recognition at that time. So, in 2006 DSC dedicated a newly built group home to Teola for her service. The Trowbridge House was built as a result of the successful campaign, led by DSC, to create the Champaign County Developmental Disabilities Board. Teola was a member of the Steering Committee to create this board and was involved in every aspect of the campaign, from the planning to the execution of that plan. Her knowledge and influence helped educate voters of Champaign County about their choices and shared with them the positive impact this board would have on our community. With Teola's commitment and tireless efforts, along with many volunteers, the referendum solidly passed 65% to 35% on November 2, 2004, thus positively impacting 700 to 1,000 individuals with developmental disabilities who now receive new or enhanced services.
Dale Morrissey, DSC's CEO shares, "Teola has been a driving force on DSC's Board of Directors for 18 years. Her dedication speaks for itself and her contributions are many. Teola has served in leadership roles during her tenure on the board and has always been ready to lead and advocate for the people we serve and the professionals who provide their services."
In 2006, the Girl Scouts organization recognized Teola as a Women of Distinction, demonstrating the extraordinary impact that women in leadership roles can offer in business and to their community.
Teola grew up in Indiana, where most of her family still resides today. She has a son and three brothers, who tease her about her success in leadership and management. "She grew up with three younger brothers. Franklin is her maiden name, so we say she went through the Franklin Brothers School of Management," said her brother Earle, who is the Toastmaster of the family.
Teola is also an avid mystery reader, enjoys canning jellies and jams, tomato juice for homemade spaghetti, and her famous bread and butter pickles. If you can't find her here in Illinois, she's probably sitting in her beach chair in Daytona, Florida. Thank you for the legacy to DSC, Teola!