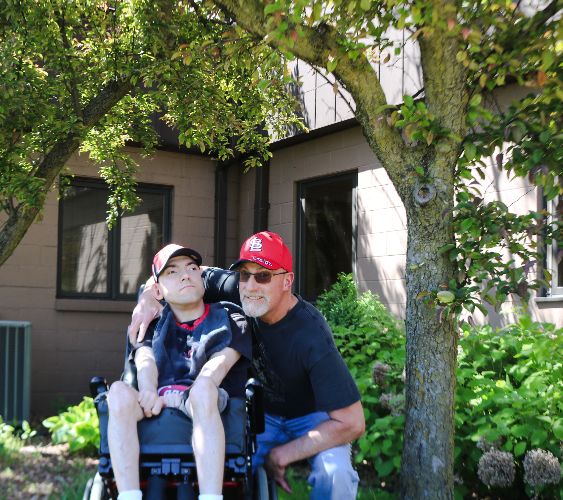 Meet David!
In celebration of Father's Day, we're recognizing DSC Dads throughout the month of June and all they do. Thank you, Dads!!
David is the father of two sons, Bryan and Brandon. Bryan is the oldest, now thirty-three and receives services from DSC. A single dad for more than twenty-five years, David's had his fair share of challenges. Despite the obstacles he's faced, David's had plenty of support from family members, including from his son Brandon, his parents and Grandmother, as well as from community professionals in the school system and from DSC.
"When I returned from service in the Navy, Bryan was around two years old. I realized I was going to be doing this alone. But I never gave it a second thought. Bryan was my son," said David.
Bryan attended Prairie Elementary School, then Jefferson Middle School, and finally Centennial High School until he was 21. The family was making preparations for Bryan to transition out of high school, when they learned about DSC. "There were times when people tried to convince me to have Bryan put in a home. I was accused of being selfish because of the care required for Bryan, but he was my son," said David.
"Having Bryan has brought healing into my life and restored faith in my own father's life, who had lost his faith when Bryan was born with such a disability, but regained it by seeing how I handled it and what an awesome kid Bryan was. I don't personally know where my life would be without Bryan. He's kept me out of trouble because I know he needs me and I've had to be responsible for him."
Bryan has a disability that prevents him from walking and verbally communicating. "It's 24/7. Over time, you learn what he needs by trial and error. He'll let you know, one way or another, that he needs or wants something, by crying or vocalizing. I've learned how to keep him comfortable and entertained. I have 200-300 DVDs and Blue Rays and we just upgraded his TV to a 65" 4k because his entertainment options are limited. It does take a toll on your own social life when you're the caregiver though."
David said that he and Bryan go to bed early and usually get up around 4:00 a.m. to prepare for the day, which may involve extra laundry and longer times to get ready than other families may experience, due to Bryan's disability. Bryan spends his days with DSC, where he receives direct support and interaction with his peers, including participating in work and various projects, as well as community activities.
"It really takes a special person to do the work that DSC does. They dedicate their time, they don't get paid enough for what they deal with, but everyone is always happy and has smiles on their faces."
David has also had a lot of reasons to celebrate lately. His younger son, Brandon got married in May. His new daughter in-law is attending school to become an optometrist and the couple has two cats, Titan and Chico. David and Bryan celebrated with the couple at their wedding in Homer, IL.