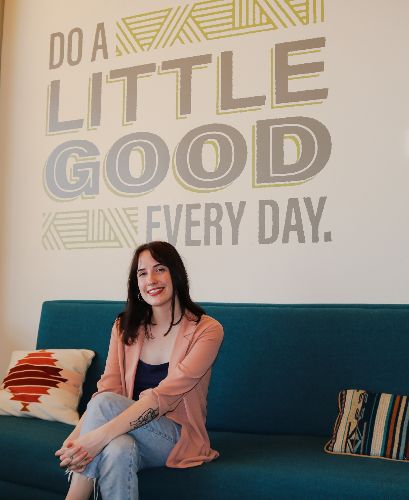 Meet Brooke!
Maybe you've noticed recently that DSC has a new look? In July, DSC introduced a new logo and is currently in the process of rebranding. Brooke is the graphic designer behind the logo!
Brooke was a student at Parkland when she was first introduced to DSC. Her instructor, Paul Young included DSC's Tree of Hope Campaign as part of their classwork, allowing Brooke and her classmates the opportunity to work on a real design project that was needed in the Champaign-Urbana community. The students were challenged to compete against one another and bring their best work for DSC's 25th Anniversary of Tree of Hope. Brooke's designs were the ones that ended up being selected by DSC to be used in the milestone campaign.
Later, in early 2019, when DSC was ready to seek out a new logo, Brooke was top of mind. Two designs were presented to DSC two weeks after Brooke was commissioned. "In my mind, I had it narrowed down to two and DSC picked one of the two. I only had to make a couple of minor adjustments. It doesn't always happen like that," said Brooke. "I wanted it to represent DSC well, the community at large, and the community within DSC. The large tree represents growth and stability. The individual leaves are to symbolize independence with a border surrounding them to show that the independence inside is also protected in a loving environment. I love what DSC does. I have two cousins with Down syndrome. My Aunt is a foster parent, so designing for DSC has been meaningful for me."
Brooke also has a paid internship with local Children's Author, Alice McGinty and designs for the Urbana Farmer's Market, too. Both are opportunities she's been connected with through Parkland College.
Three years in a row, Brooke has been the recipient of the Parkland Student Design Award. In fact, last year, she won three awards! Her future plans involve landing a job in the Chicago area, but she feels like she still has some unfinished business here in Champaign. "My friends joke that I want to leave my name on everything before I leave," said Brooke.
When Brooke is not designing, she works at The Pottery Place, which she said she loves. She said she has a close group of friends that she hangs out with weekly. She also works three jobs. "I'm kind of a big nerd. I play video games, mess around on the computer and I try to cook."