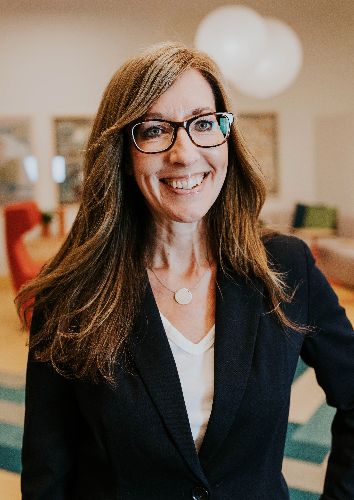 Meet Stephanie!
Have you wondered who the face is behind all the Meet Me on Monday interviews and highlights? Well, you get to meet her today!
Stephanie has been a member of the DSC family for almost three years. Prior to joining DSC, Stephanie worked in corporate advertising and she continues to be a freelance writer. She was initially introduced to DSC when we were her client at Comcast, running a recruitment commercial called Come Work with Us. Stephanie shares, "during the process of working with DSC on the commercial, I had the opportunity to get to know the agency a little bit. I remember sitting around the boardroom table, when I was presenting ideas for the commercial to the leadership team and thinking to myself, 'what a great group of women. I wouldn't mind working with them,' and that stuck with me. I stayed in touch and volunteered for C-U Oktoberfest because my office at Comcast was right across the street from the event."
Stephanie was initially hired as an Employment Specialist where she worked for Annette Becherer, Director of Employment Services, but stayed in that role just a short time before Annette hired her again as the LEAP (Leaders in Employing All People)/Employment First Coordinator. After about a year, she transitioned to Development and worked as a Development Specialist and now as the Grants and Marketing Coordinator.
Having had an opportunity to see the clinical side of the organization has really helped Stephanie in her current role. She shares, "I really enjoyed my involvement with LEAP. DSC has such a legacy and investment in Champaign County, the state of Illinois really, when it comes to the work that's been done on behalf of people with disabilities here. I feel like I had the opportunity to play a small role in that with LEAP and the Employment First efforts and I learned a lot from Annette."
Stephanie made an impact in her efforts as LEAP/Employment First Coordinator and it did not go unnoticed. She and Annette were asked to present at the state IARF (Illinois Association of Rehabilitation Facilities) Conference on how to start a program like LEAP, how we rebranded LEAP to capture business/employer audience, trained over 20 employers, including Parkland College, Champaign & Urbana Park District, and Champaign Unit #4 Schools. Stephanie's efforts took LEAP to the next level and the program continues to be a success today.
Today, you will find her in the world of development and all it encompasses! She writes many of DSC grant proposals, articles for our DSC Community News newsletter and our e-newsletter, oversees all our social media, takes photos for marketing purposes, coordinates special projects – such as the DSC Christmas Wish List, coordinates community volunteers from schools, businesses, the U of I, and Comcast Cares Day. She is also working to develop, cultivate, and nurture more business and donor relationships – finding ways to bring together further skills, interests and desires between the two parties and DSC.
Stephanie's impact has been significant and she is a valued member of the Development Team, but personal and professional growth does not come without challenges. Stephanie shares, "there was a learning curve, changing from advertising to non-profit agency. I knew a lot about marketing from a business perspective when I came to DSC, but I didn't know as much about the clinical aspects really. Non-profit, working with donors/grants is different than marketing, so I've had to be open and willing to learn from others, including the people who receive our services, but I find that type of challenge to be good for me, even if it's not easy."
Being responsible for seeking revenue streams and finding ways to encourage donations that effect DSC's bottom line can sometimes feel overwhelming. The list of needs is significant and ever changing, "as a grant writer, it's hard not to feel personally responsible, or a sense of ownership for that, or be bummed when we don't get a large grant, when I know how bad we need it. I've had to learn to get past that and know that we're not going to win them all", states Stephanie.
Like so many who work at DSC – It is the mission that drives us! Stephanie, too has caught that mission bug and she shares, "it's a privilege to be a part of our mission and a joy to be around the people who receive our services. That's what lights me up and why I come here every day, but I also get the opportunity to work around some great leaders and I consider that an honor too. It's both challenging and rewarding to have leadership that you respect. You see their level of commitment and dedication to the mission and it's contagious. I like that I can use my ability to write, or network and in return receive funding to make a difference for others, or on behalf of DSC. It can be hard work at times, but it's also fulfilling when you see the direct impact the money is having."
Outside of work, Stephanie loves to read, working out, spending time outdoors, and she enjoys local history and being creative. She does a lot of creative writing outside of her work at DSC and her fifth story with Chicken Soup for the Soul is coming out this October in their title Chicken Soup for the Soul: It's Beginning to Look a Lot Like Christmas. Stephanie is the mother of two, Kyle and Karen, and is a beloved cat mom!
Thank you, Stephanie for all you do for DSC!