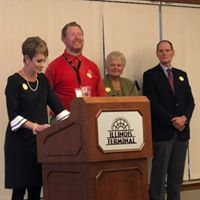 Meet Alaric!
Each year as part of our Tree of Hope campaign, DSC awards one individual with a Personal Achievement Award. This award exemplifies diversity and inclusion in the workplace, but also includes the individual's personal life and efforts toward living the life he or she desires.
Alaric Schaufele was this year's recipient, "He has worked very hard over the years to live and work independently in his community and to say he has been successful isn't really enough," stated DSC VP of Development and Communications, Janice McAteer when she called him up to the stage to receive his award on the night of the event.
Alaric joined DSC in 2001, and receives services from DSC's Apartment Living and Employment Services programs. He has his own apartment and has created a life that he chooses. He is especially passionate about music and is active in The Singing Men of GNN, a group that performs around town. With the group he's sang the Star Spangled Banner at a U of I Women's Soccer game and at a U of I Volleyball match. Alaric has also been taking piano lessons for around 20 years! Playing the piano brings him great joy and satisfaction, as he performs in recitals and at an area nursing home. He is involved at church and volunteers for the Humane Society's Annual Garage Sale.
Alaric has also been employed at Circle K for 10 years, which is why his friendly face and contagious smile might just look familiar to you!
Alaric spends his time working between 8 & 10 stations in Champaign and Urbana. On any given day, he will be walking between the stations he is scheduled to work, and he takes the MTD when needed. His responsibilities include lot maintenance, trash removal and grounds maintenance. Janice McAteer reached out to Alaric's Managers to learn more about what it means to have Alaric working at their stations.
Yvette Wright manages the station where Alaric works three days a week and they have worked together for many years. Yvette shared, "Alaric is a value to our organization. He goes above and beyond, always asking if there is anything else he can do. He is always there-rain or shine." Yvette went on to say, "He is friendly and helps customers-everyone loves to see him."
Janice also spoke to Stewart at the W. University Ave. station which is the main location where Alaric works. "Alaric does outstanding work. He is diligent about his work, is on time, and stays busy. He is really funny and has a great sense of humor." Stewart went on to share the impact he sees that Alaric has on their customers, "Alaric brings value to our customers. He is always smiling as he keeps the pump area swept and clean. He is a good representative of our brand. He loves working and he really knows a lot of people."