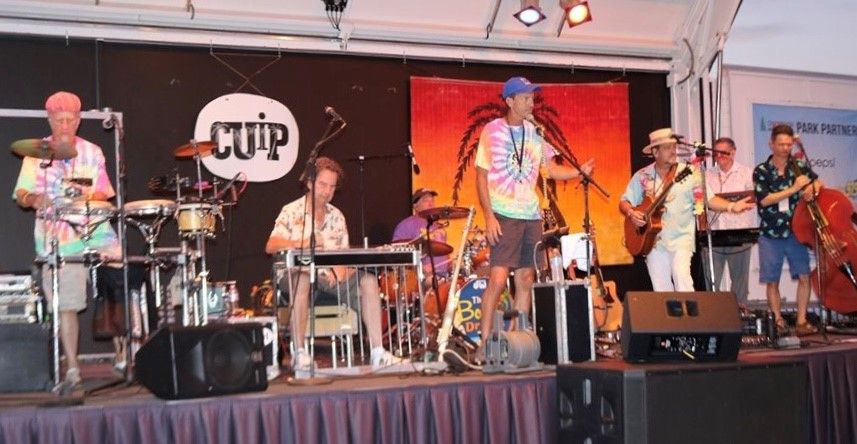 Meet the Boat Drunks!
As part of our Annual Tree of Hope Kick-off, we also include a special recognition event and award several individuals for their outstanding achievements. At the 2019 event, The Boat Drunks were one of two recipients of the special recognition award. They've been a part of the DSC community for over 10 years now, and so, this week we're going to take a trip to warmer weather and visit with The Boat Drunks.
The Boat Drunks are from Champaign, Illinois and are now entering their 20th year as a touring band and still going strong. The group has performed from coast-to-coast with nearly every member of Jimmy Buffett's Coral Reefer Band and have opened shows for Jimmy Buffett, The Beach Boys and Little Feat among many others. Other notable shows include playing outside of Wrigley Field in July 2011 prior to a Cubs-White Sox game, performing in 2015 at a Stanley Cup party for Coach Joel Quenneville of the Chicago Blackhawks, playing "Margaritaville" Theme Nights for the St. Louis Cardinals at Busch Stadium from 2016-19, for the Cleveland Indians at Progressive Field, at the United Center for the Chicago Blackhawks and for many other Margaritaville-sponsored events.
Their set includes many fan-favorite Buffett hits, original music from their five studio albums and other covers ranging from Little Feat to Johnny Cash to The Beatles and more. The Boat Drunks perform at many "Parrot Head" fundraising festivals across the country and their originals have been heard on Buffett's Radio Margaritaville, Sirius/XM Channel 24, as well as many other "trop-rock" radio stations and podcasts. The band has been voted the Trop Rock Band of the Year five times, most recently 2019, by the Trop Rock Music Association's members. Additionally, the members of Trop Rockin' Magazine voted the band as Band of the Year in 2019 for the second consecutive year. Their latest album, released on October 24, 2019 and titled "Tidal Tracks", features 22 originals and 6 classic covers recorded live by the band on July 3, 2019 at The City Center in Champaign, IL. The recording is their first live album as a band and features guest appearances by co-founder Jake Tatar, his son Jackson Tatar and Champaign vocalist Dawna Nelson.
The Boat Drunks became involved with DSC through C-U in the Prairibbean, a fundraising event hosted by the Eastern Illinois Parrot Head Club. "We have been the headline band for C-U in the Prairibbean every year and became involved in all things DSC that way. Since DSC became involved with CUIP, we've been able to provide entertainment for other smaller DSC events with solo and duo shows involving band members," stated Todd Lindsey, The Boat Drunks Manager.
As a band, we are all in various stages of life and interests, but the common thread among all in the band is that we love to play music with other musicians locally and nationally when it's possible. Several of the guys do play in other bands whenever our schedule allows them to do so," said Lindsey.
"There are so many memories we've been able to make over all these years in partnering with DSC that it's difficult to pick a favorite. But the reaction we get from the people DSC works with whenever we play a song, whether it's a Jimmy Buffett song or one of our original songs, is truly priceless. We've always been the favored "house band" for the Eastern Illinois Parrot Head Club and C-U in the Prairibbean and we are very fortunate to have that distinction with so many other very good trop rock artists out there. But supporting DSC's local mission is certainly something we love to do in any situation," said Lindsey.
Janice McAteer, DSC's VP of Development & Communications has worked with Todd and The Boat Drunks since the start of the relationship with DSC and is inspired by the band's passion for DSC's mission. "Our relationship started with the band enjoying a hometown gig for their hometown Parrot Head Club, but as the years have passed, it has been so fulfilling to see this gig mean even more. The band believes in DSC's mission and they uplift all through their incredible talent," said McAteer.
The band also just completed their first live album, which was released in October and they are still touring regularly and having fun. They also spend a lot of time together as a group. "So much so that our individual families are all part of one big band family, which is very cool after 20 years together," For fun, they love to play music of various kinds. And they all love to talk baseball when they are on the road.