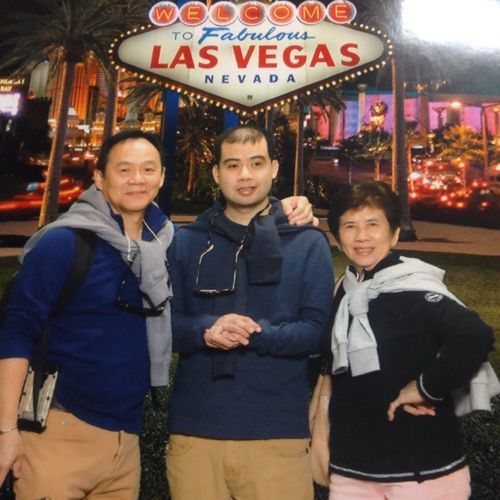 Meet Sunny!
Sunny Pook is the father of Ronnie Pook, a thirty-three-year-old, who receives services from DSC. The Pook family found DSC through a mutual connection, Dianne Bollman. At the time, Dianne was the Young Adult Coordinator for Champaign Schools and part of her role was assisting students with transition from high school into adult services, with agencies such as DSC.  "She is amazing. Every year, on Ronnie's birthday, her husband borrows a Ford mustang from the local dealership, because Ronnie loves cars. Then, the couple takes him out for his favorite dinner at a local Mexican restaurant. They've been doing it for years. It's one of the many things she continues to do. Dianne is the one who helped connect us to DSC years ago," Sunny said. We spoke with Dianne, who now works for the Mahomet School District: "I can't imagine a more deserving father to honor," and mentioned the overwhelming attention he gives to his son and how kind and generous their family is toward her and others providing support to Ronnie.
When Ronnie was growing, up it was difficult because Sunny was working as a manager in the restaurant business and his schedule kept him very busy back then. Now, he is very grateful that his schedule allows him to be available for his family and Ronnie more than he was in those days. He and his wife, Anna split the responsibilities. For example, his wife cooks, and then he and Ronnie will wash the dishes afterward. Sunny said that he washes and Ronnie dries the dishes. They do other chores together too, but not gardening, he said laughing. "We tried gardening, but Ronnie doesn't like it. He will do it for five minutes and then says that it's too hard. He doesn't enjoy it."
Having a child with a disability wasn't easy for Sunny to accept at first. "I come from a large family. I have eight siblings and they each have five or six of their own children, who were all born healthy. So, when Ronnie was born, I found myself wondering what I did wrong. I feel bad for thinking that way now, but I didn't understand. When we first visited DSC, I learned that I wasn't alone and felt grateful. When you have young children with intellectual or developmental disabilities, you do your best. Sometimes we get worried, but my wife and I we just do our best, and that is all you can do, and remind yourself of all the professionals who are also there to support us."
Sunny told us that Ronnie has completed several years of school and comprehends things fairly well. It has been somewhat of a challenge for him to understand everything going on right now, during the recent stay-at-home order. As an essential non-profit, DSC has been open during this time, but each program has been under specific guidelines. The program Ronnie is in, Community Day Services (CDS), has not been open. "At first he didn't understand. I had to show him on the news that everything was closed. Now he shows us by coughing and communicates to us that DSC is closed. He wants to go back, but understands why it's closed now. As a parent, it's very hard," Sunny said. "The people at DSC do so much and they're always asking can they do something more. Andrew from DSC called the other day because he knew Ronnie would not be at DSC for his birthday this year. So, Andrew wanted to get permission to arrange for the Fire Department to do a drive-by for Ronnie's birthday, since Ronnie loves cars. He got very excited and started to make car noises. These are the extra things they do. All of them. I cannot imagine asking them to do anything more, when they do so much already."
For fun, the family likes to walk together every night. Sunny and Anna are both retired, so they do a lot of activities together, as a family. They do things around the house and stay home right now, of course. Before all of the current situation, Sunny said they visited the casino and Ronnie loved the slot machines. For a long time following their trip, when Ronnie got off of the bus on Fridays, he would tell his parents "Ding! Ding!" and try to communicate that he wanted to go back to the casino and they would laugh.
Sunny said the family plans for Ronnie to continue to live at home for the foreseeable future. "After we had Ronnie, we made the decision to not have any more kids. We thought we might not be able to give him the attention he needed. Now, we joke that he is just spoiled." With both Sunny and Anna retired, Ronnie said at this time they are able to provide the care he needs and they enjoy the extra time they have to spend with him.
Happy Father's Day, Sunny! We appreciate all of the dads in our DSC Community.