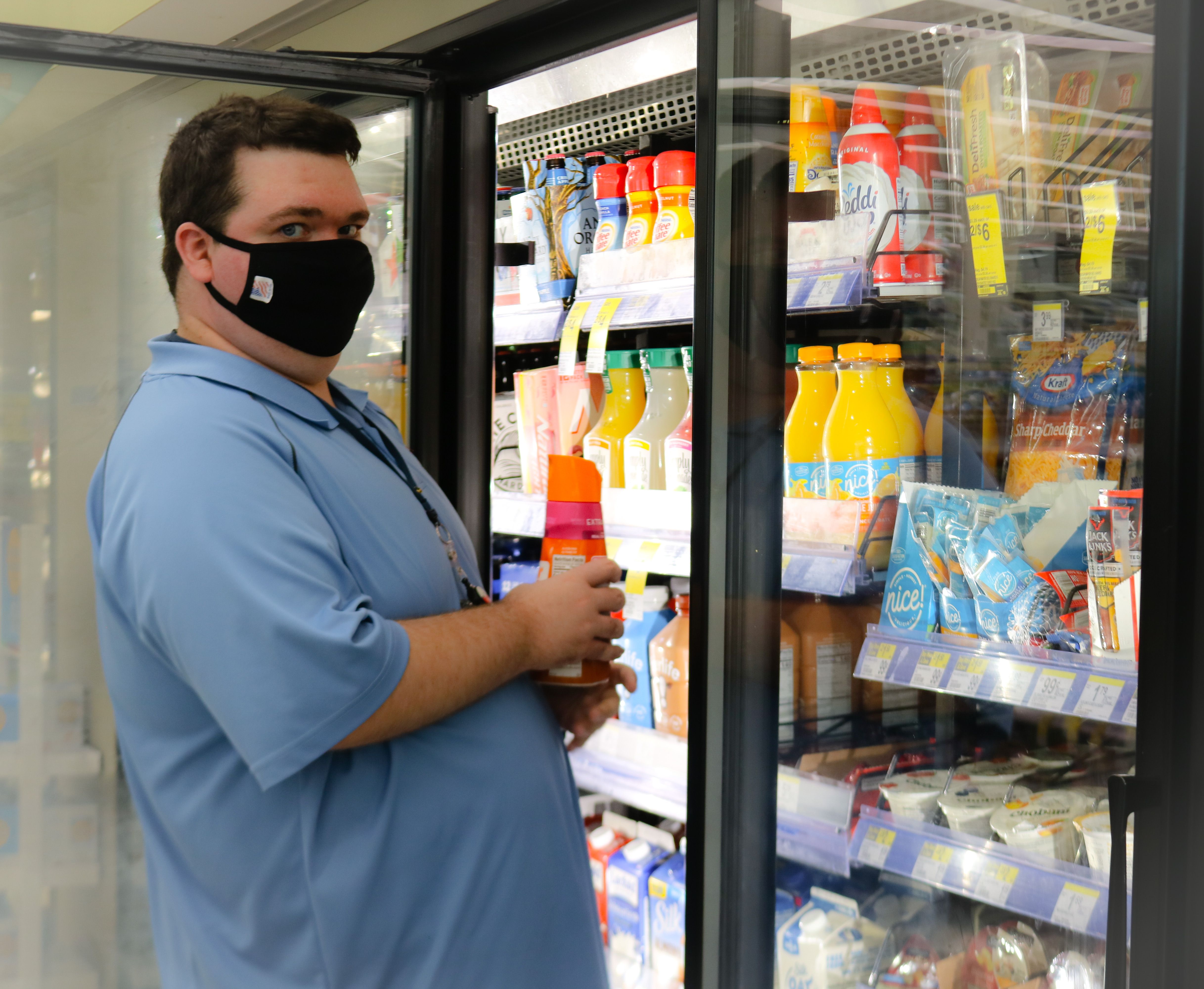 Meet Tom!
Tom, began receiving job coaching support through the DSC Employment Services Program, upon graduation from high school. DSC Employment Specialists are trained in Customized Employment, which uses an individualized approach to matching a job seeker's strength with an employer's needs. The two discuss career goals, history, education and work together to come up with goals and a plan for employment. The process works best, when we find a good fit from the beginning and build long-term relationships with employers in the community.
Tom has been working at Walgreens for over seven years. He has a variety of responsibilities during his shift. When he first began the position, he spent the majority of his time on truck duties. Truck day is a retail term used for when shipments arrive. The freight from the truck is unloaded, usually in the stock room. Boxes are then unpacked and the stock room is replenished and kept in order.
Today, Tom helps cover the register, stocks shelves and spends a lot of his time outdating, a task he's proud to do. Outdating in the dairy section, is a critical role that Tom fills. It's vital that the outdating in dairy is done on a specific schedule and done with detail, which suits Tom's personality well.
Products are pulled from the shelf within a specified number of days prior to their expiration date. This is where Tom's unique abilities work in his favor, allowing him to hyper-focus on details, including with the outdating process. His attention to detail is one of the reasons he's successful in his role, and why the position is a great match for him. Tom also rotates food items on the shelves, and applies sale stickers appropriately, such as bakery items, when they reach specific dates.
Tom said what he loves most about his job is doing something that keeps people safe, by working in outdating and removing items that are approaching expiration dates from shelves. He said he also feels fortunate that he's been able to continue working during the pandemic, as an essential worker. Management at Walgreens described Tom as "Friendly, detail-oriented, inquisitive and dedicated."
When Tom is not working, one of his favorite things to do is play Pokemon Go. He also has three cats, Primrose, Watson and Sherlock.