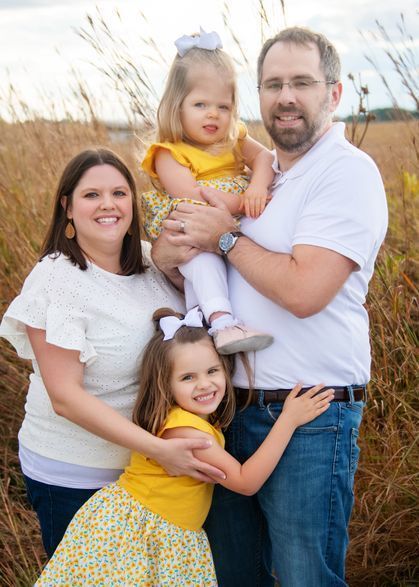 Meet the Freres Family our 2020 Tree of Hope Spokesfamily!
Bryan and Ciara Freres, are parents of Charlotte and her big sister Reagan. The Freres are residents of Champaign, a community they're thankful for because of the many activities for their children and the outstanding services available in Champaign County for their daughter.
Charlotte, a beautiful, little wonder! That's how Bryan and Ciara describe their youngest daughter, Charlotte who is almost three years old. Today, she is full of life. She loves being outside for picnics and play. Splashing in the water is sure to bring smiles. Doing anything with her big sister brings big fun. She is seldom seen without her stuffed Dolly. Charlotte is a fun-loving child and a courageous, resilient little girl. In the early days of pregnancy, however Bryan and Ciara faced many unknowns.
Like many families, Bryan and Ciara were overjoyed in early 2017 when they discovered a new baby would be welcomed into their family. They looked forward to learning Charlotte's gender in utero. "We were smiling and laughing while waiting for the technician to begin the anatomy ultrasound. Little did we know how that day would change our lives forever. Our smiles soon turned to worry when the technician left the room to get a doctor, and our worry soon turned to despair as the doctor told us something was wrong with our baby girl's brain," recall Bryan and Ciara.
After traveling to Cincinnati Children's Hospital in Cincinnati, Ohio, to get another opinion, the couple soon learned that Charlotte had a severe form of spina bifida called myelomeningocele. This meant her spine had not fully closed, and she would need surgery shortly after birth to repair spinal tissues protruding from her back. While the surgery could close her back, it would not restore normal function.
Charlotte would have lifelong complications from the damage to her spine. Charlotte also had severe hydrocephalus, a condition where cerebrospinal fluid floods her brain, pushing all the brain tissues to the edges of her skull, and destroying the traditional structure of the brain. She would need a shunt placed in her head throughout her life to drain the fluid from her brain, but the damage would be permanent, and that damage meant developmental delays, frequent seizures, and other complications. Later, Bryan and Ciara received the news that Charlotte also has an unrelated genetic condition called DiGeorge Syndrome which causes developmental delays, physical abnormalities, and a compromised immune system, among other issues.
While doctors knew the source of her issues, nobody could give the family an accurate prognosis for Charlotte's life. The doctors seemed to be preparing them for the worst. Days before she was born, Charlotte's maternal-fetal medicine doctor told the family that Charlotte's hydrocephalus had become so bad that it was difficult to find her brain tissue at all on the ultrasounds. But Charlotte persevered. She had brain and spinal surgery within days of her birth, and spent weeks afterward in the NICU at Cincinnati Children's Hospital.
Reflecting back, Bryan and Ciara have this encouragement for other parents who are pregnant and receiving a similar diagnosis, "Whatever you do, don't Google it! Don't let the diagnosis bury you. Stay hopeful, thankful and positive. Those were dark days for us and it consumed us. There is hope and there are people who will be there to help you," said Bryan and Ciara.
Bryan and Ciara remember their drive home from Cincinnati, as one that was filled with uncertainty. "Charlotte was strapped securely in a car bed (her head was too large for a normal car seat) and we felt lost. That was a long drive. Like every parent, we wanted to give our little girl every opportunity to thrive throughout her life. How could we do that given her unique circumstances? How could we ensure Charlotte had as much access to the world around her as possible? We soon learned we were not alone—there are wonderful people who dedicate their professional lives to helping children like Charlotte maximize their potential. People like Barb, Charlotte's speech and feeding therapist, and her colleagues at DSC."
During our interview, Bryan and Ciara stated that DSC has been there for Charlotte and their family through ups and downs. "Charlotte started babbling and cooing like normal babies early in her life, but her medical conditions combined in ways which only further complicated her life. Her DiGeorge Syndrome means her immune system is subpar, and as she continued to get sick, those illnesses triggered prolonged seizures and frequent visits to the emergency room. Making matters worse, Charlotte often stops eating and drinking like normal when sick. As Charlotte's seizures worsened, her babbling stopped, leaving us with difficulties interacting with our little girl."
Today, Charlotte still does not talk, but her speech therapist Barb has helped Bryan and Ciara find ways to connect with her. "We read body language and use signing to interact with Charlotte. She has signed 'all done,' 'mama,' 'dada,' and 'more,' among other basic words. We treasure the times we see her sign 'happy.' Barb has also helped us with speech devices, which will allow Charlotte to use pictures on buttons to vocalize her thoughts. She has also helped us find ways to introduce new foods to Charlotte, which ensures she is getting proper nutrition even when she is sick and tries to stop eating. Through Barb and DSC, Charlotte is learning to interact with the world around her through any means her conditions will allow.
Barb continues to work with Charlotte weekly. "From the moment she first met Charlotte through today, Barb has shown infectious enthusiasm and a tireless dedication to Charlotte's progress. When the COVID-19 quarantines began, Barb was immediately on the phone devising new ways to continue Charlotte's weekly therapies, and Charlotte has continued her positive progress despite the disruptions. Even outside her therapy sessions, Barb will randomly drop activities at our front door to help Charlotte work on her speech and feeding. Barb has been an irreplaceable blessing for Charlotte and our family."
The Freres Family love spending time together as a family. "It's one of Charlotte's favorite things to do. We go for walks, play with toys outside and also enjoy family game nights. Recently, we built a fort in the living room."
For the future, Charlotte has been accepted into DSC's Individual and Family Support Program (IFS). This means she will continue to see Barb and another developmental therapist even after she ages out of Early Intervention (EI) services. DSC will be providing respite care support for the Freres through (IFS) for Charlotte. "Essentially this will be a professional who can care for her several hours per week, which allows us time to work on other aspects of Charlotte's care while knowing she is in the hands of a trusted individual who knows about her unique care and needs."
It is difficult, and often overwhelming, knowing how much our little girl will struggle throughout her life. Nothing will ever come easy for her. Charlotte is a happy little warrior though, and with the help of DSC and professionals like Barb, Charlotte is progressing and gaining more access to the world around her each day. Knowing the struggle that preceded it, we celebrate even the smallest of Charlotte's victories. In helping Charlotte's progress, DSC has given us many reasons to celebrate. The joy in DSC's mission has led to joy in our lives. We are excited for what Charlotte's future holds, and we are forever grateful for DSC's commitment to providing services and support to children and adults like Charlotte with intellectual and/or developmental disabilities.
"We are blessed to be Charlotte's parents. We hope you'll join us in donating to the 2020 Tree of Hope Campaign."