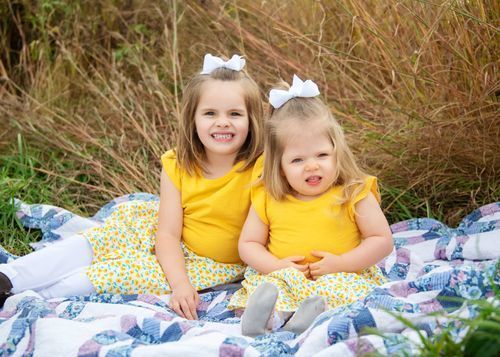 Meet Early Intervention!
As part of our focus on children and the Tree of Hope Campaign, we are highlighting our Family Development employees and programs, beginning with Early Intervention.
DSC provides a number of services that fall under the umbrella of Early Intervention (EI). Most EI services are in the category of Speech and Developmental Therapies. Families often learn about DSC through a referral process, or screening. For example, when a family suspects a developmental delay they may seek out a screening. Following a screening, they may then receive a referral to DSC.
"When working with Early Intervention programs through DSC Family Development, families can expect teaming among employees and programming whenever possible," said DSC, Family Development Director, Nicole Sikora. Families will often be invited to attend multiple programs, when relevant, or multiple therapists will join sessions as a team, increasing the overall impact and outcomes the families receive. Many times families will participate in both Parent Wonders and Play Groups, for example, or work with a Developmental Therapist and Speech Therapist simultaneously.
This year's Tree of Hope Spokesfamily, Bryan and Ciara Freres told us that their daughter Charlotte does not talk, but her speech therapist Barb Hoffman has helped Bryan and Ciara find ways to connect with her through DSC's EI Program. "We read body language and use signing to interact with Charlotte. She has signed 'all done,' 'mama,' 'dada,' and 'more,' among other basic words. We treasure the times we see her sign 'happy.'
Barb has also helped us with speech devices, which will allow Charlotte to use pictures on buttons to vocalize her thoughts. She has also helped us find ways to introduce new foods to Charlotte, which ensures she is getting proper nutrition even when she is sick and tries to stop eating. Through Barb and DSC, Charlotte is learning to interact with the world around her through any means her conditions will allow.
Barb continues to work with Charlotte weekly. "From the moment she first met Charlotte through today, Barb has shown infectious enthusiasm and a tireless dedication to Charlotte's progress. When the COVID-19 quarantines began, Barb was immediately on the phone devising new ways to continue Charlotte's weekly therapies, and Charlotte has continued her positive progress despite the disruptions. Even outside her therapy sessions, Barb will randomly drop activities at our front door to help Charlotte work on her speech and feeding. Barb has been an irreplaceable blessing for Charlotte and our family."
For more information about the Family Development, please call the Director of the Family Development Center, Nicole Sikora at (217) 356-9176.
An Overview of DSC Family Development Early Intervention (EI) Services:
Evaluations and Screenings
Early intervention improves the quality of life for infants and toddlers with developmental disabilities and/or delays through early identification, intervention, and family support. Family-centered intervention maximizes the gifts and capacities of families to provide responsive intervention within familiar routines and environments. Daycare consultation and developmental screenings are also available.
The following services are offered through this program:
Assessment Services
* Developmental Screening
* Comprehensive Developmental Evaluation
* Referral and Coordination
Comprehensive Therapy Services
* Developmental and Speech Therapy
* PLAY Project (Play and Language for Autistic Youngsters)
Family Support Services
* Parent-Child Playgroups
During shelter-in-place, EI staff have been conducting evaluations, screenings, and therapy via video using their laptops. Additionally, they utilize their laptops for attending teaming and school meetings.