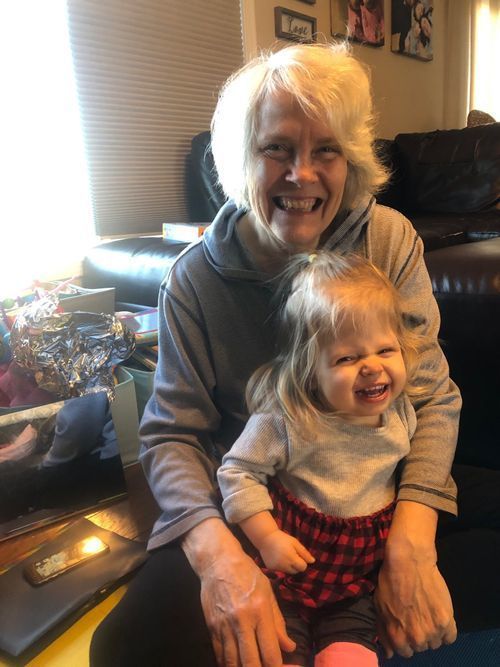 Meet Me on Monday
As part of our focus on children and the Tree of Hope Campaign this month, we are continuing to highlight our Family Development staff.
Meet Barbara! A DSC Speech Language Pathologist
Barbara Hoffmann is a Speech Language Pathologist and has worked for DSC for over 13 years. In her role as a Speech Language Pathologist, she evaluates and treats kids with communications and feeding delays/disorders.
For the state of Illinois, this is typically birth to 3 years of age, however DSC has a grant funded by the Champaign County Developmental Disabilities Board (CCDDB) that provides funding in some cases, for children ages up to 6 years old.
Providing Therapy During a Pandemic
Providing virtual therapy services during a pandemic requires a special type of person to do the kind of work that Barbara does because you are entering families' lives at a vulnerable time. It's important to consider what that's like for the family. It requires interpersonal skills, a warm-friendly personality, one who is accepting of others, non-judgmental, compassionate and able to educate others. "They are allowing you to see their weakness and they may also be grieving," explained Barbara.
Helping Parents Find Hope & Perspective in Progress
Barbara also told us that over the years, she's been most impressed with the courage and resilience she's seen from the families she's worked with. "There are so many parents we work with that are so admirable. They will say to us, 'I watched this child fight for their life so we're happy with who they are and the progress they're making right now rather than focusing on what they're not able to do yet." Finding this perspective might not be easy or the same for every family.
Parents Treasure Three-Year Old Learning to Sign, "Happy."
One of the families Barbara works with is this year's Tree of Hope Spokesfamily, the Freres family and their three-year old daughter, Charlotte. Today, Charlotte is non-verbal, but therapy has helped Bryan and Ciara Freres find ways to connect with her. "We read body language and use signing to interact with Charlotte. She has signed 'all done,' 'mama,' 'dada,' and 'more,' among other basic words. We treasure the times we see her sign 'happy.'
Charlotte Receives Speech Device!
Barbara has also helped the family attain a speech-generating device which allows Charlotte to use pictures on buttons to verbalize. She has also helped the family find ways to introduce new foods to Charlotte, which ensures she is getting proper nutrition even when she is sick and tries to stop eating. Through DSC's therapy services, Charlotte is learning to interact with the world around her through any means her conditions allow.
DSC Services Continue During COVID-19
Barbara continues to work with Charlotte weekly. "From the moment she first met Charlotte through today, Barbara has shown infectious enthusiasm and a tireless dedication to Charlotte's progress. When the COVID-19 quarantine began, Barbara was immediately on the phone devising new ways to continue Charlotte's weekly therapies, and Charlotte has continued her positive progress despite the disruptions. Even outside her therapy sessions, Barbara will randomly drop activities at our front door to help Charlotte work on her speech and feeding. She has been an irreplaceable blessing for Charlotte and our family."
Barbara relayed that she gets most excited about the day-to-day victories shared with her by a parent who invites her to celebrate along with the family. "Sometimes it may not look like we have all of the answers from a medical perspective, but that's when we stick to our craft and do what we know to do, and then one day, you get a call, or text, or video from a family celebrating a child's accomplishment with their eating or speech. The daily progress is what this is all about."
Encouragement to Parents
Barbara's encouragement to parents, or new employees starting in this field is to take baby steps and appreciate the little milestones along the way. She recommends the website https://www.zerotothree.org/ for a wide range of topics, activities, resources and services that families can benefit from. Learning about typical development is priceless, as it supports families in understanding what to expect of their child developmentally to build success rather than frustrate with expectations out of line with their current development.
Thank you, Barbara for the great work you do!
For more information about Family Development, please call the Director of Family Development, Nicole Sikora at (217) 356-9176.