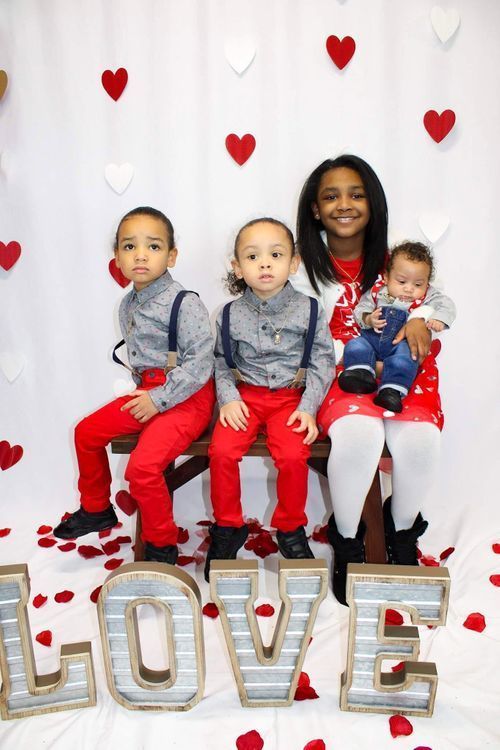 Brandy is the mom of twin boys, Legacy and Legend, who are 4-years-old, and most recently, they added 4-month old, Ermias to their family. The boys also have a big sister, Zamiah who is 8-years old. Brandy's twins are autistic and previously received services from DSC.
Developmental Milestones & Getting Referrals for Services
When the boys were around 9-months old, Brandy noticed they weren't reaching milestones and mentioned it to their pediatrician, who also took notice. "They weren't pulling up and walking, by the appropriate time. I had to speak up for the boys and say, 'Hey, they're not reaching their milestones,' I had to really advocate on their behalf," said Brandy. When the boys were 12-months old, they were referred to receive an evaluation through Early Intervention at DSC.
The boys had an assessment, and though they were too young at that time to receive an autism diagnosis (though it would come later), it was determined that they'd need speech therapy, physical therapy, occupational therapy, as well as feeding therapy. At 12-months old, the boys were only able to drink baby formula. They weren't able to eat baby food, or cereal.
Working with DSC Family Development
While receiving services from DSC, Brandy's family worked with Heather Johnson, a Developmental Therapist and PLAY Project Consultant, and Barb Hoffman, a Speech Language Pathologist. Brandy said both were each instrumental in assisting her boys. "Heather is so good at getting down to their level, when it comes to working with the boys. Once you start working with DSC, they really become like a part of your family. When it comes to Barb, I really have no words. She's such a master at her craft. She has so many techniques." Brandy said that through DSC's assistance, her boys have received helpful resources, such as weighted blankets, a peanut ball, (which is like an exercise ball, but shaped like a peanut and used for specific therapies), and a hero high chair. The Hero High chair is adaptable and helps to align children properly to eat.
Learning about the PUNS List
"I've also spoken with Vickie Tolf several times, and she's helped us apply to get on the PUNS list and get respite care through the IFS program. We don't need it now, but we will and I'm grateful for the resources and knowledge at DSC. Otherwise we wouldn't have known to get on the list. I want other people to be able to gain access to these resources too," said Brandy.
Vickie Tolf, is the Director of Quality & Program Assurance at DSC, and she is often the first point of contact when you inquire about services. PUNS (Prioritization of Urgency of Need for Services) is a database of Illinois infants, children, adolescents, and adults with developmental disabilities who have needs for developmental disability services or supports. The PUNS database is how the State of Illinois identifies and plans for those services and supports.
Brandy is a Parent & Advocate
Brandy has a passion for spreading the word about Early Intervention services for autism, especially among the African-American community. After her own experiences, she's seen the value and importance of services for herself and her own children and hopes that others will too. "I used to feel vulnerable, talking about the boys having autism, but not anymore. My biggest concern is that parents will wait too long to seek out services, or they won't seek out services at all," said Brandy. "It is common among the African-American community to fear that your child will be labeled, if they have a disability. What people don't realize, is that their child can flourish, when they receive the services they need."
One of Brandy's long-term goals is to create an organization that generates awareness around the topic of autism in the African-American community. "I want people to understand that autism doesn't just hit one race, it can happen to any family. I didn't really know anything about it until my boys showed the signs. I saw the signs, but there are many people who don't know what to look for, or they may be afraid to get help because there is a stigma about seeking out help and even fears around your children being labeled as socially/emotionally delayed," said Brandy. "DSC has been a building-block for us-once we were connected, we were able to access PLAY Project, C-U Autism Network and so many other resources. It's so important that others receive services they need too."
Family Time
For fun, Brandy and her boys enjoy swimming, going to the local trampoline park to bounce, and attending events like the C-U Autism Run (when they're able to happen). The boys also love to run!
Thank you for sharing your story, Brandy!