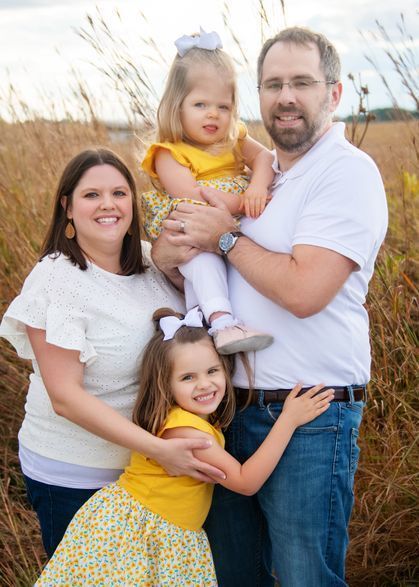 It's hard to believe that it was only a short time ago that we kicked-off the holiday season by introducing you to the 2020 Tree of Hope Spokesfamily, little Charlotte, her sister Reagan and her parents, Bryan and Ciara Freres.
Throughout this 27th year of the campaign we had the opportunity to hear the story of the Spokesfamily, in addition to recognizing and celebrating the accomplishments of our annual award winners, including, Employer of the Year-Planet Fitness, Special Recognition Award Winner-ESS Clean Inc., and Personal Achievement Award Winner-Thomas Mustered.
Charlotte's mom, Ciara Freres said their family has enjoyed being involved, and they will miss it, now that it has come to an end. "Every life is precious and beautiful. We are so grateful that our community supports an organization like DSC, that is dedicated to helping kids and adults like our daughter Charlotte reach for every bit of beauty and opportunity that their abilities will allow," said Ciara and Bryan Freres.
Thanks to You, We Met Our Goal!
It is with pleasure that we can share the good news that we have exceeded our goal of $175,000 and raised over $193,000! "Thank you to every donor whose contribution provides hope for individuals supported by DSC, the sponsors who make the campaign possible, and to the Freres family for selflessly sharing their lives with us. The past year has been challenging and we are so grateful for the community support," said DSC CEO, Danielle Matthews.
Thank You, Freres Family!
We would also like to take this opportunity to thank the Freres family for their commitment to the campaign. "The Tree of Hope Campaign and the generosity of the donors impresses me every year! I really appreciate the time and effort the Freres family put into supporting DSC as the Spokesfamily. They are the reason DSC exists and their story is a great example of what the Tree of Hope Campaign allows DSC to do every day," said DSC Board President, Mark Waldhoff.
Thank You, Donors, Community Partners & Sponsors!
Donations from the Tree of Hope support DSC's annual budget, allowing the agency to continue providing services to more than 1,100 children and adults with intellectual and/or developmental disabilities each year. Every gift given helps light the Tree of Hope, located on the corner of Prospect Avenue and Marketview Drive in Champaign. The lights represent the services DSC provides. Each time a bulb is lit, it signifies $50 in contributions to the campaign, thus, allowing DSC to provide the resources and services vital to a brighter future for individuals with developmental and/or intellectual disabilities and their families.
Thank you, Freres Family and to all of our sponsors, donors and community partners for helping us light the tree this year and continue the DSC mission!