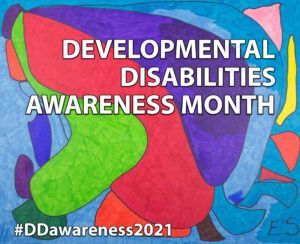 DSC proudly supports and recognizes Developmental Disabilities Awareness. Through the month of March, we will highlight people, programs, stories and projects.
DD Awareness-A Collaborative Social Media Initiative
According to the NACDD website, (the National Association of Councils on Developmental Disabilities), the initiative is a social media campaign that highlights the ways in which people with and without disabilities come together.
The campaign seeks to raise awareness about the inclusion of people with developmental disabilities in all areas of community life, as well as awareness to the barriers that people with disabilities still sometimes face in connecting to the communities in which they live.
What Are Developmental Disabilities?
According to the CDC (Center for Disease Control), developmental disabilities are a group of conditions due to an impairment in physical, learning, language, or behavior areas. These conditions begin during the developmental period, may impact day-to-day functioning, and usually last throughout a person's lifetime. Developmental disabilities include disabilities such as cerebral palsy, autism, muscular dystrophy, Down syndrome, or fetal alcohol spectrum disorder.
1 in 6 Children May Have a Developmental Disability
The figures show as of 2017, about 1 in 6 children are identified to have some type of developmental disability. With support and services from an organization like DSC, a person can live an active and fulfilling life in the community.
Learn How You Can Get Involved
During Developmental Disabilities Awareness Month in March, DSC will highlight the disability community and some of the new projects and achievements they're excited about including an update on The Crow at 110, individual artists and more. Stay tuned to learn more and how you can support DSC and each individual in their journey toward their dreams.
#DDAwareness2021 #MotivationMonday #Chambana
Sources:
https://www.cdc.gov/ncbddd/developmentaldisabilities/index.html